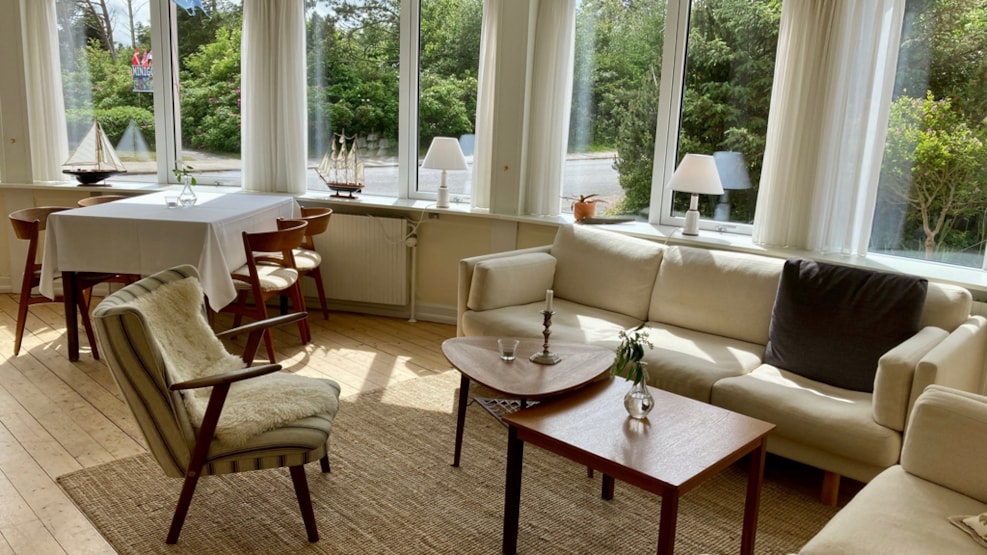 Hotel Strandlyst
The historic seaside hotel, Hotel Strandlyst, invites you inside to calm and immerse yourself in an authentic and fine setting.
The North Sea is just 800 meters away.
The hotel is also perfect for family parties and corporate events.
Hotel Strandlyst is a traditional, Danish seaside hotel without luxury and spa, but with the charm preserved from 1895, where tranquility, space for contemplation and lots of fresh sea air are part of the agenda. Just 800 meters from the hotel you will find one of Denmark's best beaches, namely Tornby Strand.
The hotel contains 30 charming rooms as well as six cozy common rooms, where you can feel reserved for a bygone era. In line with the tradition of Danish beach hotels, you will not find TV or radio in the rooms, however, there is access to free wireless internet throughout the building. All rooms are furnished with their own shower and toilet - some, however, located in the hallway. As an overnight guest at Hotel Strandlyst, you wake up to a delicious breakfast plot, based on local and organic ingredients.
At Strandlyst, we are happy to form the framework for your next family party or company event. The hotel's diverse living rooms cover any need for gatherings for both private and / or business guests.
The hotel also serves as a perfect location for holding various retreats, where the area, nature and tranquility of the hotel complete the experience.
Read much more about the possibilities on Hotel Strandlyst's website.