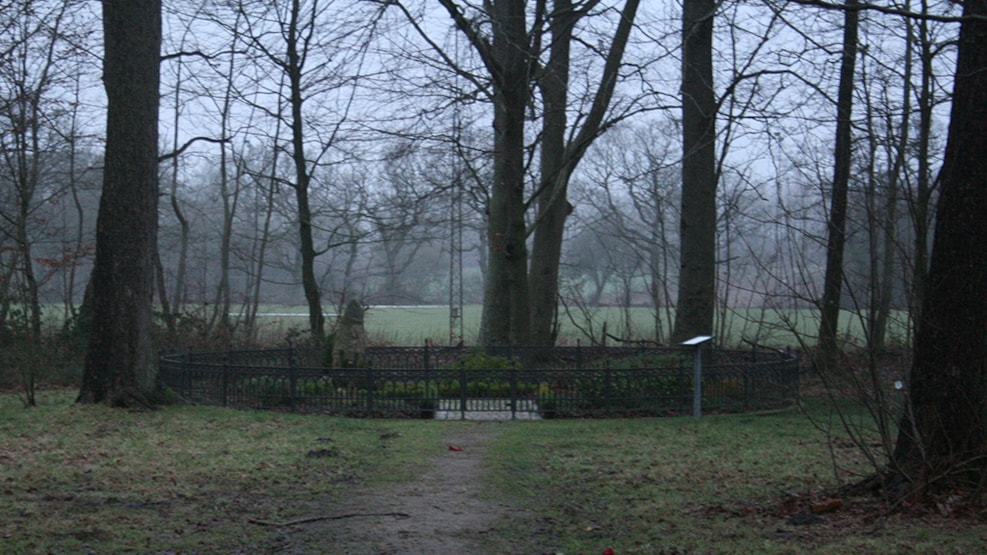 WWII Memorial by Grønvang Skoven, Vejen
In the small forest just west of Vejen Sports Centre at Askov there is a small cemetery with a memorial to two freedom fighters from WWII.
The story
On 16 April 1944, during German occupation, an act of sabotage close to Vejen was being prepared by Danish freedom fighters. There was at that time a very active group of saboteurs (or freedom fighters) at Askov Højskole (folk high school), which consisted of police officers from other parts of the country who had gone underground and were in hiding at the school. The railway line between Esbjerg and Kolding was important for the occupying German forces and was therefore a natural target for saboteurs. The group had made a plan for a series of blasts along the line. Three of the freedom fighters were riding on their bicycles from Askov to Andst Bridge, where the act of sabotage was to take place, when at the intersection at Skodborghus they came across a German patrol and sought cover on a farm. Here, two of the saboteurs were shot and killed. The otherwise friendly local German commander in Vejen had been heavily leaned on by the German secret police (Gestapo) and gave orders that the bodies were to be buried in a small forest between Vejen and Askov. The day after, the commander was approached by three representatives from the high school who asked for the bodies to be handed over, a request that was denied. But at a later visit to the local pastor they were informed of the burial site.
The grave was on 17 June 1945 consecrated as part of Vejen Cemetery.
Distance
Hiking route The Ancient Road Hærvejen 0 km
Cycling route The Ancient Road Hærvejen 0 km