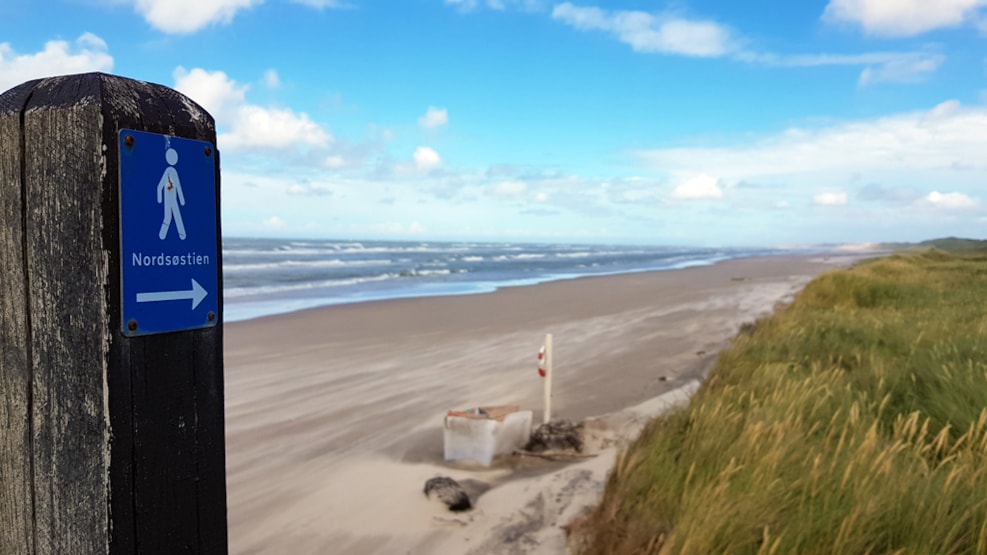 Wild Rover Travel - Self-guided walking holidays
Interested in a self-guided hiking trip along the spectacular North Sea Trail? Wild Rover Travel takes care of all the practical arrangements, leaving you free to simply enjoy the walking and scenery along this stunning stretch of Jutland's Northern coast.
Wild Rover Travel arranges self-guided walking holidays. When you book a trip with Wild Rover Travel, the package includes comfortable accommodation with breakfast, as well as detailed route descriptions, maps, and GPS tracks. Your therefore have all of the navigational tools you will need to find your way without the need for a guide. Wild Rover Travel will also transport your luggage between hotels while you walk, so you only need to carry a light day pack. The self-guided concept allows for great flexibility – you are free to start whenever you want, choose your own walking companions and go at whatever pace suits you.
Self-guided hiking trips on the North Sea Trail
Wild Rover Travel offers two self-guided hiking trips along the North Sea Trail.
The long version is 8 days in total (6 hiking days as well as an arrival and a departure day) and goes from the beach town of Løkken to Denmark's most northerly town of Skagen.
The shorter version takes 5 days (3 hiking days as well as an arrival and a departure day) and goes from the busy fishing port of Hirtshals to Skagen.
On both routes you get a sense of the incredible forces of nature that have shaped the area's wild landscape over time. Windswept coastal trails alternate with tranquil forest paths. You will discover peculiar attractions such as the Sand-Covered Church, the mini desert of Råbjerg Mile and the Rubjerg Knude Lighthouse, which was recently saved from falling into the sea because of coastal erosion.
Your luggage will be transported for you, so all you need to bring on the walks is a small backpack with water, lunch pack, a mobile phone and maybe a towel if you should feel like a swim along the way. And then you can look forward to relaxing in small, comfortable hotels and B&Bs that will give you a real sense of the Danish concept of 'hygge'.