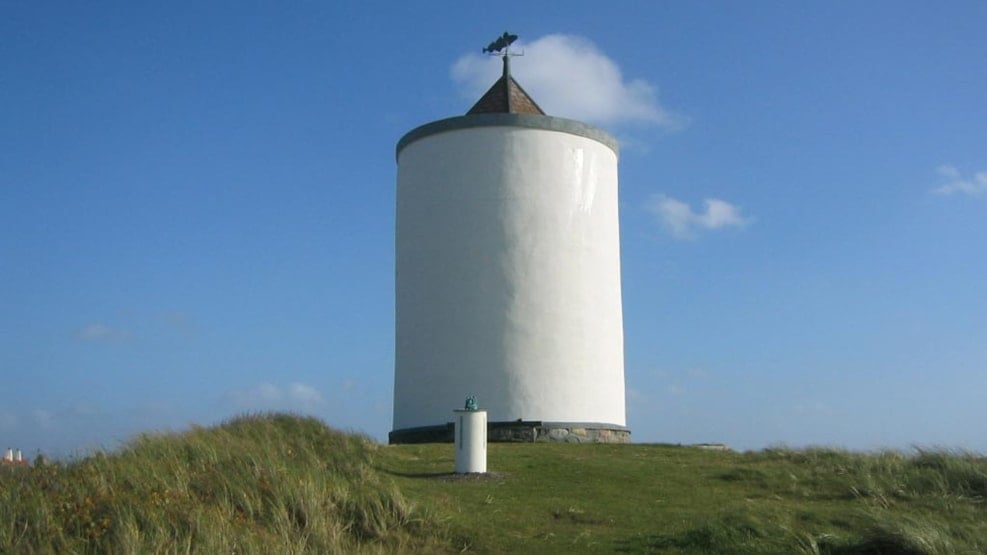 The Water Tower and Pillar of Solstice in Løkken
Løkken Water Tower, Signal Mast and Sea Mark are all parts of the Løkken Skyline. Løkken Water Tower is hard to miss on the way to the beach!
Løkken's Water Tower opened July 1st 1917. Back then it was an important part of Løkken's water supply. 175.000 liters of water was stored in the tower and could be transported to the citizens when they opened their water taps. The original plan was to have a capacity of 140.000 liters, but a negotiation with entrepreneur Axel P. Gudnitz resulted in an extra meter in height and therefore an increased capacity of 35.000 liters.

Inside the water tower there was a pump which pumped water into the tower when water levels ran low. This process kept the water moving which meant it would not freeze during the winter. On the east side of the tower, you can see a square fixed on wires. Originally, this had a floating ball attached, which was used to read water levels. On the top of the water tower recides a 2 meter long fish in cobber showing the wind direction. It was attached in 1953 and was made by a local blacksmith. In 1969 the water tower had its roof renovated, and it also got a new cobber gutter. Løkken Water Tower was in use until 1975.
At the foot of the tower you will find Bodil Dam's Solstice Pillar which was built in 2004. It shows where the sun sets during winter and summer solstice. The citizens of Løkken gather here at the shortest and longest days of the year to celebrate the sun and the turn of the year. 
There is a wonderful view from Løkken Water Tower and it is definitely worth a visit on your trip to Løkken.