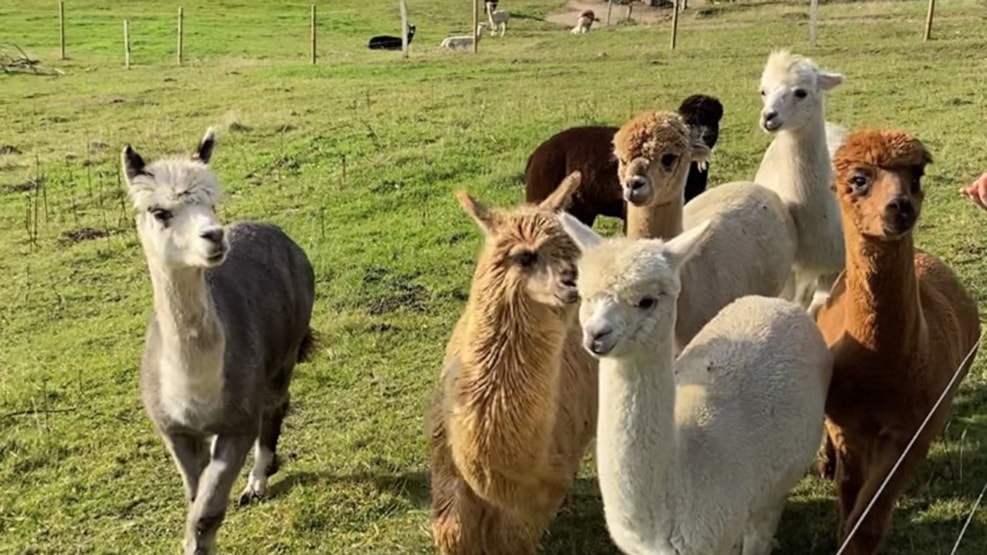 Walk n' talk with alpacas at Myllerup Østergård
Would you like to go for a walk in the beautiful nature of the Gudenå Valley with the cutest alpaca as your companion? The farm Myllerup Østergård near Tørring offers walk n' talk hikes where you get to pat, pet, and chat with this impressive South American animal.
Bring your family for a walking trip with adorable animals
Carsten and Annette are living in idyllic surroundings at the farm Myllerup Østergård by the little village Hammer outside Tørring. Even though Carsten and Annette are very nice, they are not the most popular residents at the farm. That honour would go to the many cute alpacas that call this little blot on the landscape their home.
When you visit Myllerup Østergård you have the chance to go hand in hand with an alpaca (or… lead the alpaca on a leash) and go for a walk in the beautiful hilly landscape in the valley of Denmark's only river, Gudenåen. It is up to you whether you want to enjoy the solitude with your four-legged companion or you wish to listen to the guide's many stories about alpacas and bring home new knowledge.
On the way, you will stop on a hilltop for a chance to make the perfect video or take good pictures for social media with an impressive view.
The tour is typically 1½-2 hours. Afterwards you can eat your packed lunch at the tables and benches in the courtyard and maybe buy soft drinks or beer in the farm shop.
About alpacas
The alpaca is a close relative to camels and originate from the western part of South America. It is very similar to the lama but significantly smaller.
When you visit Myllerup Østergård, you will experience that the alpacas are quite curious although they tend to keep their distance. They make a little grunt when they speak but they also have a warning scream that strangely resembles that of a seagull. Alpacas CAN spit like the lama but rarely does. You really need to provoke them to do that. They are in no way dangerous animals but actually quite reserved. You might have to win their trust first before they allow you to pat them - by nature, they are not pets but domestic animals.
An attraction under development
During 2023, a new farm shop will open at Myllerup Østergård. Here, you will be able to buy various specialities and delicacies.
The farm will also host a workshop for ceramics and glass art where you can frequently attend creative workshops and other events.
Book a walk n' talk
Contact Myllerup Østergård to book a guided hike with alpacas. You can also book a guided tour where you will hear about life at the farm and the animals but without taking the alpacas for a walk. Call +45 60 14 38 31 or send an e-mail to aplaca@myllerup-oestergaard.dk.
At Myllerup Østergård's website you can read more about the tours and see prices (In Danish)
You can also follow the alpaca farm on social media and keep updated on the latest news and lots of pictures of the farm's sweet residents.