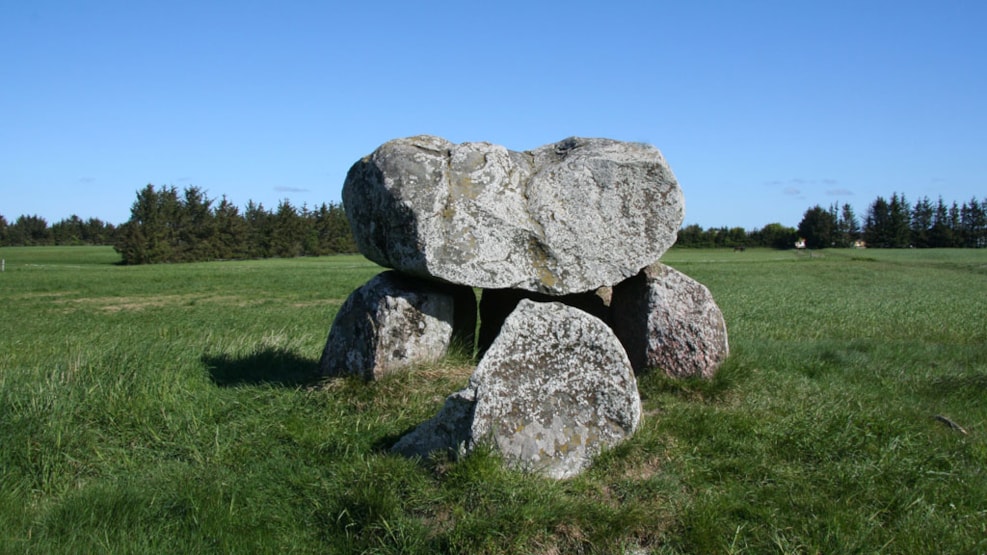 Tornby Dyssen (dolmen)
Visit the dolmen in Tornby which is the northernmost dolmen in Denmark and one of the oldest. The dolmen dates from 3600-3200 BC.
The Dolmens are the oldest stone graves in this country; build by the early Stone Age farmers in 3600-3200 BC.
The Tornby Dolmens, that are the most northern Dolmens in Denmark, consist of four big rocks that carry a cover rock. The dolmens are freestanding, but were originally completely and partially covered by a mound of earth which has disappeared over the years. The Dolmens were already protected in 1881 because of their beautiful and monumental looks.
There have been several funerals in the Dolmens, of which the tracks have disappeared.
There is a description of the dolmens from 1800 in the archive of the National Museum that describes the destruction but also tells superstitious stories which saved the dolmens from total destruction:
"The Dolmens were ruined 40 years ago, shortly after this the owner and his grown up son died. The widow sold the farm but insisted that the remains of the tomb should remain untouched as long as she lived. She believed that trolls had killed her husband in son in revenge because they had disturbed their home and living space. She also believed that they would kill her if more stones would be taken."