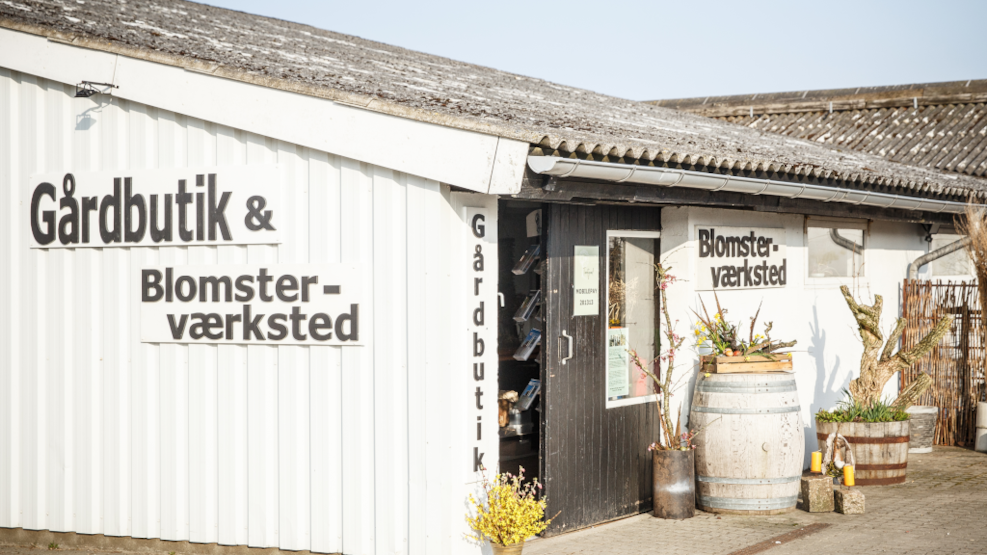 Tinnetgaard Farm Shop & Visiting Farm
This visiting farm with a farm shop is located only a few hundred metres from the sources of the river Gudenå. Go for a walk in the inspirational garden, pat the farm animals or look at the products in the farm shop or the florist's shop. Here everything is produced organically focusing on holistic planned grazing, seasonal ingredients, and socioeconomic principles.
Rural idyll and delicious specialities
Only a stone's throw from the sources of the Gudenå (an area known as The Great Watershed) this cosy visiting farm invites the whole family to come and pat the animals, admire the many beautiful flowers, buy some of the farm's own production of specialities or enjoy a cup of coffee with home baked bread.
Organic farm shop and roadside food stall
Tinnetgaard has its own production of a series of products that are for sale in the farm shop. For example, organic eggs, organic potatoes, organic Hereford steaks, plants, herbs, bouquets, nesting boxes, tapas boards and much more.
They also sell other specialities such as wine, craft beer, chocolate, squash, boiled sweets, and confectionery.
All products are organic or made with organic principles.
The farm shop has limited opening hours. You can see the current opening hours at Tinnetgaard's website.
Outside opening hours, you can always stop by the roadside stall, offering a selection of eggs, potatoes, flowers, and  craftsmanship.
The flower workshop
Tinnetgaard also produce Danish flowers from spring till autumn. In the flower shop you can anything from bouquets to decorations, and plants. During winter you can buy the farm's own dried flowers. The florist's shop specializes in edible flowers and plants. You will find more than 100 different types of flowers at Tinnetgaard.
Tinnetgaard uses flowers, plants, and herbaceous perennials that are naturally in season as well as nature's own beautiful materials in their bouquets, arrangements, and flower art. In their creative compositions they use second-hand pots, bowls, glasses, and fine flea market findings.
A lovely oasis
You are more than welcome to walk around Tinnetgaard's inspirational garden and pat the farm's goats, cows, pigs, horses, and chickens. There is a roofed picnic spot where you can enjoy your packed lunch. You also have the option of buying coffee and cake in the farm shop.
Lots of events
Tinnetgaard regularly organizes events that you can participate in. These include harvest festival, Christmas market, communal eating, and afternoon tea as well as flower arranging courses and workshops.
Are you a group who are interested in a private workshop, course, or a guided tour on Tinnetgaard? Then contact Linda at linda@tinnetgaard.dk.
The impressive nature
Tinnetgaard is located close to the nature gem Tinnet Krat where you can find the sources of Denmark's only river Gudenå and the biggest stream Skjernåen. There are several hiking routes in the area. Both short round trips, and not least The Gudenå Path that follows the Gudenå to Tørring and on to Uldum Marsh (Kær). A very beautiful hike through the Gudenå Valley. The historic hiking route called The Ancient Route (Hærvejen) is also in proximity of Tinnetgaard. You can also explore the remains of Denmark's first water park here.
You can read more about the source of the Gudenå on this page.