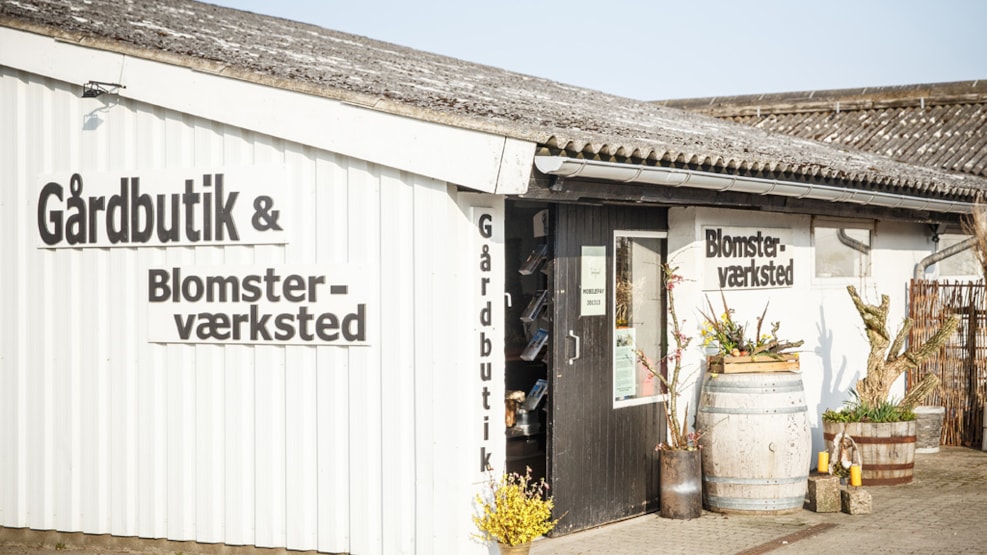 Tinnetgaard – farm shop and open farm
A stone's throw from the river headwater of Gudenåen, you find Tinnetgaard, which is a charming farm open to visitors and with an organic farm shop. Everyone is welcome and you will find great activities for the whole family.
Drop by and see the farm's many beautiful flowers, meet the farm animals, buy farm-grown organic produce, or enjoy a cup of coffee with cookies or ice cream.
Nature
Tinnetgaard is located by some of Denmark's most scenic nature with the Tinnet Krat nature reserve, the river springs of Gudenåen and Skjernåen, and the Ancient Road/Hærvejen winding close by. Here, you will find hiking routes of varying lengths, and you can also explore Denmark's first waterpark.
Sustainable flowers
Our flower atelier is part of the farm shop. Here, you can buy bouquets, decorations and plants. At Tinnetgaard, we only sell beautiful, farm-grown flowers, which are tended to by the farm gardener from spring to autumn. Only flowers in season are used. During winter months, you can buy wreaths, dried flowers and dried bouquets. This allows you to buy flowers all year round with a clear conscience since only choosing flowers in season minimises the CO2 footprint.
Events and workshops
Events are held throughout the year, usually based on the season. There are Christmas markets, flower courses, communal dining events, afternoon teas and much more throughout the year. Check our website, tinnetgaard.dk, for inspiration, or book a ticket now for a great experience.
Social enterprise
All work at Tinnetgaard is carried out in partnership with young people aged 17-30 years. Since 1999, Tinnetgaard has been a business boarding school for young people who do not meet the requirements of the established education system. When visiting Tinnetgaard, you therefore not only support our efforts to curb climate change, you also help empower young people with meaningful employment.