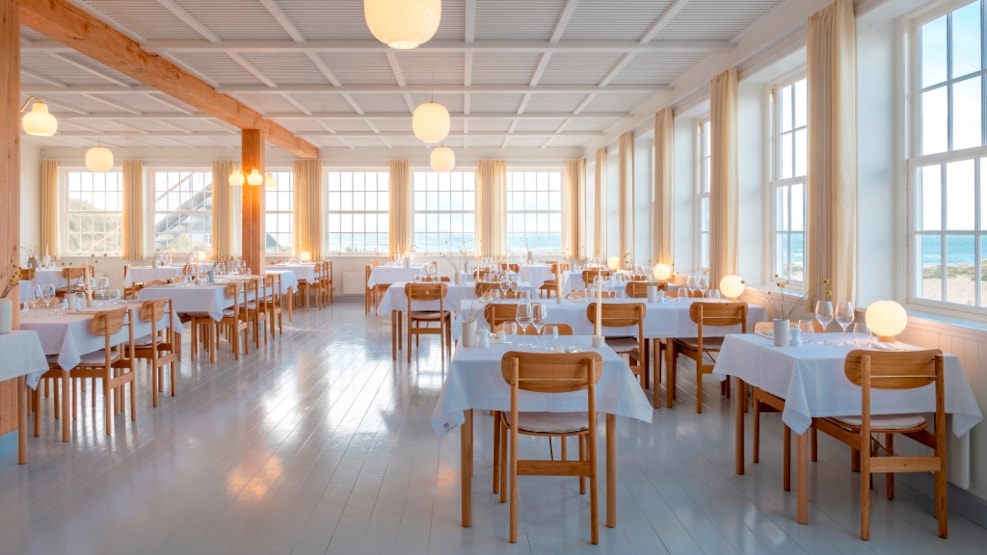 Svinkløv Badehotel - Restaurant
Local producers form the foundation for Svinkløv Badehotel's kitchen. The menus are composed of seasonal ingredients that have just been pulled up from the ground or sea the same morning. Everything is organic and made from scratch.
Welcome to Svinkløv Badehotel
Svinkløv Badehotel is located in the outermost dune row at the bottom of Jammerbugten. The hotel is originally from 1925, but in September 2016, a fire became part of the hotel's history.
Now Svinkløv Badehotel has been rebuilt in the finest balance between present and past. Designed by Praksis Arkitekter and built by local and skilled enthusiasts.
The hotel has 36 simple and personal rooms that open onto the powerful and raw nature: the dunes, the forest and the North Sea.
Here you can enjoy the silence and relax from the digital tumult that surrounds many of us in everyday life. We therefore encourage you as a guest to turn off the phone and put down the computer during your stay. For the same reason, we do not have wi-fi or telephone in the rooms. On the other hand, there are board games in the living rooms for free use, and the surroundings both inside and out lend themselves to quiet foundation, togetherness or immersion in a good book.
The food at Svinkløv is - like the house itself - natural, simple and honest. The evening menu changes from day to day and is composed based on those of the season's ingredients that have just been pulled up from the ground or the sea the same morning.
Svinkløv Badehotel is open from approx. mid-April to early October. Further information can be found on the website