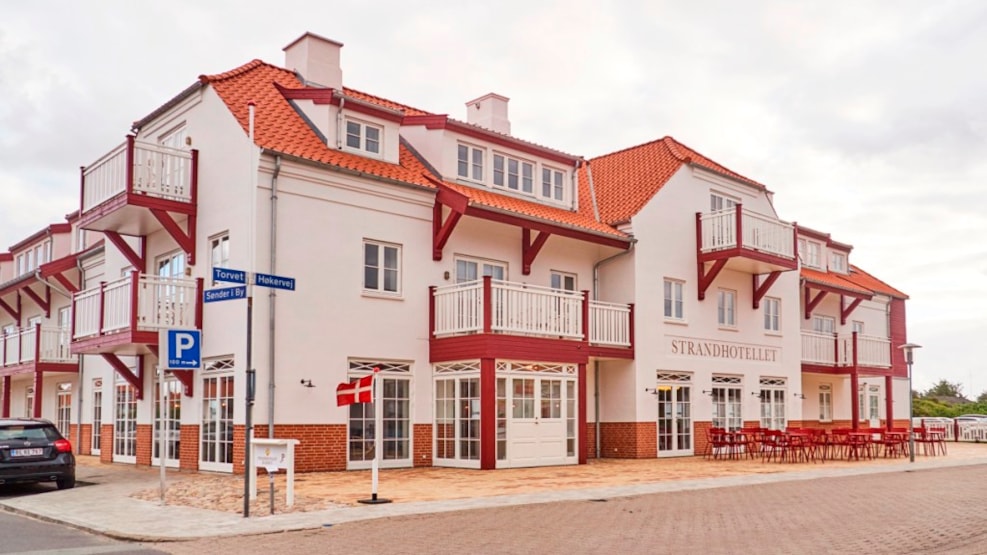 Strandhotellet Blokhus
With just a few hundred meters to the wide, white sandy beaches and the west coast, and located in North Jutland in one of Denmark's nicest and best cottage areas, Strandhotellet Blokhus is an obvious choice as a bathing hotel for romantic souls.
In summer 2017, the new beach hotel, "Strandhotellet Blokhus" opened in Blokhus, ready to accommodate guests in 36 rooms and 2 suites.
This exclusive seaside hotel is designed by the local architect, Jørgen Ussing, who has succeeded to implement the characteristic Blokhus style with whitewashed walls and red tile roof in the building.
Most of the 38 rooms have a private wooden balcony, and guests have access to common terraces, located all around the building as well.
Furthermore, the hotel has a lovely garden and orangery, which is the perfect place to enjoy a nice lunch.
Inside the hotel, the décor has references to the classic Danish seaside hotels. This is especially evident in the classic panels and wallpapers.
The two fireplaces give warmth, which is nice after a stroll along the beach.
The restaurant offers guests a true dining experience when the chefs and guest chefs create exquisite dishes made from local commodities.
Also, the beach hotel gives guests the opportunity of total relaxation in the beautiful and peaceful wellness department. The wellness department houses a swimming pool, sauna, loungers and a fitness room with equipment made from exclusive American walnut wood.
The hotel offers free parking with possibilities for charging electric cars for their accommodating guests.