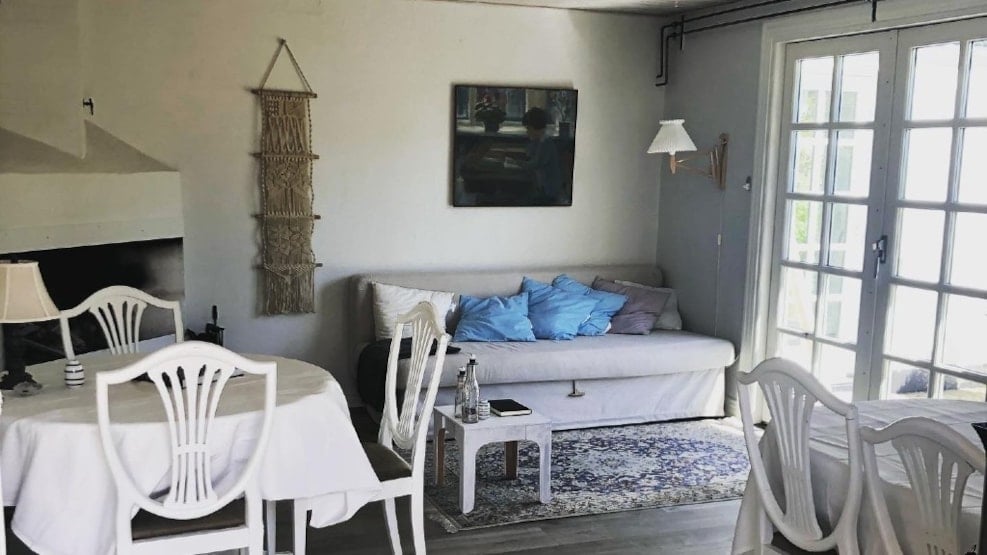 Rødhus Gl. Skole B&B
Welcome to Bed and Breakfasts in the old school of Rødhus by Jammerbugten.
Bed and Breakfast in quiet surroundings on a large plot. We are very close to the North Sea, Denmark best beach and only 1,3 kilometers away from the best naturist beach in Denmark.
We rent 2 lovely bright rooms with double bed and private bath, which is just 2 years old. In one room theres is TV with DVD and wireless internet throughout the house.
There is access to our steam beth, indoor and outdoor shower. We have a magnificent fireplace in our small gallery where you can enjoy a cup of coffee or tea. There is free coffee and tea which you can make in the small kitchenette. There is a shelf in the refrigerator available. There is access to a lovely garden with an outdoor chess game.
Do you have an autocamper? You can stay with us. Theres is acces to power and bath for just 200 DKK per night.
We have good parking possibilities. If you want to go for a drive, there is only 6 km to Blokhus, 1/ 2 hour drive to Aalborg and 1 hour to Skagen. You can also drive on the beach from here to the town of Løkken.
Breakfast is from 8:00 to 9:30 and is included in the price. By ordering the day before, it is possible to buy a little lunch.
If you take a few days at Bed and Breakfast in Rødhus old School, we can offer a picnic with Forest Techniques Søren Loft Sørensen: The tour is for adults and children or children/adults separately, only children older than 6 years. The walk in the forest offers many experiences, from forest sounds, plants, trees, lakes, viewpoints, old shooting graves from the wartime, and much more. The trip takes 1 1/2 to 3 hours and cost 75 Kr per person. You will get a piece of fruit and a drink along the way.
We can also offer NLP therapy during your stay. There may be several reasons to go into therapy. It can be about unrest in partnership, the desire og having ahigher quality of life, personal development, you may think many negative thoughts, it may be about grief from various reasons, loneliness, loss, and particularly anxiety, etc.
Therapy by Elsebeth Hougaard
www.hougaardterapi.dk
Phone: +45 30 31 60 79
Prices
Single: 600 DKK per night
Double room: 600 DKK per night
Linnen: 100 DKK per set
Lunches: 60 DKK
Bicycle rental: 50 DKK per day
Dogs: 100 DKK per night (only by appointment)
RV: 200 DKK per night
Arrival at 11.00 or 18.00, departure at 10.00. Cash payment upon arrival.