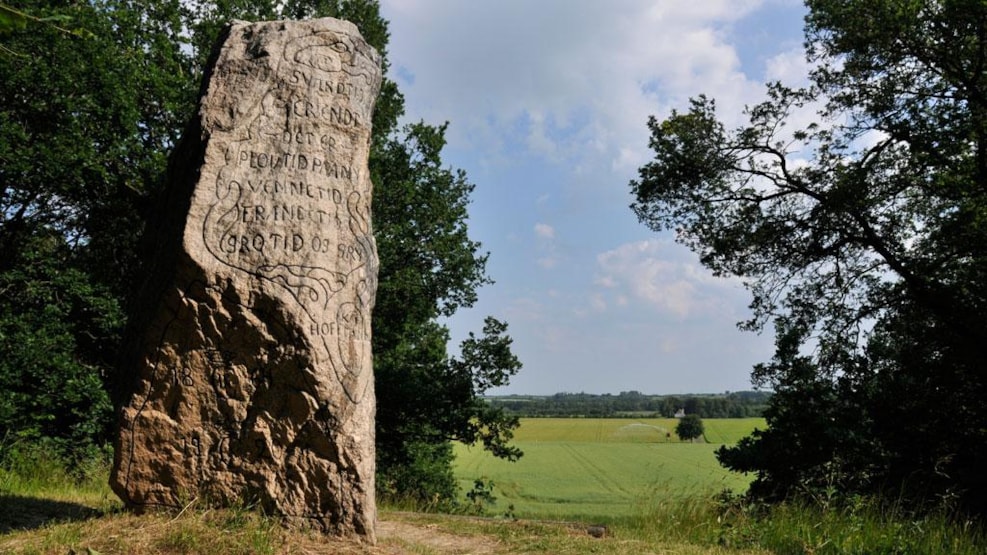 Reunification stone at Skibelund Krat
The Reunion is the event in the History of Denmark for which the highest number of memorial stones have been erected, not just in Southern Jutland/North Slesvig but in the entire country. The Reunion memorial stone in Skibelund Krat is one of the first stones to be erected.
The stone is placed on top of an old prehistoric barrow in the easternmost end of the monumental park as a symbolic highpoint of a series of monuments. It was almost a foregone conclusion that Skibelund Krat was to have a monument to reunification. The over three-meter tall granite stone with inscriptions on two sides complete with royal monograms was designed by Niels Hansen Jacobsen, Vejen.
On the western side of the reunification monument a verse by Kai Hoffmann has been inscribed. And on the stone's eastern side, Niels Hansen Jacobsen has added his own tribute. The stone's north side features the monograms of King Christian IX and King Christian X followed by the years 1864 and 1920. Most monuments at Skibelund Krat face south, whereas the writing on the reunification stone faces north since following reunification there was no longer a need to mark a protest directed against the south.
When the stone was erected there were no trees at the site and the stone was therefore a landmark of visible significance.
The initiator who erected the reunification monument in Skibelund Krat was Governor of the National Bank of Denmark Johannes Lauridsen, Vejen. Shortly before his death in 1920, he commissioned Niels Hansen Jacobsen to create the monument, which was unveiled on 15 July 1920 in the presence of King Christian X and Queen Alexandrine. 
The stone for the monument comes from a field near Læborg north of Vejen. The stone was cut into several pieces. One piece was used for the reunification monument at Skibelund Krat. A second piece is to be found on the cemetery of the unaffiliated church of Rødding in the form of a memorial to fallen members of the congregation during WWI. A third piece marks the tombstone of H. F. Feilberg at Askov Church. After the loss of Southern Jutland to Prussia in 1864, Feilberg fled north of the boarder, Kongeåen. The symbolic unity of these three stones carries great historic significance in the region.
Distance
Hiking route The Ancient Road Hærvejen 0,4 km
Cycling route The Ancient Road Hærvejen 0,4 km