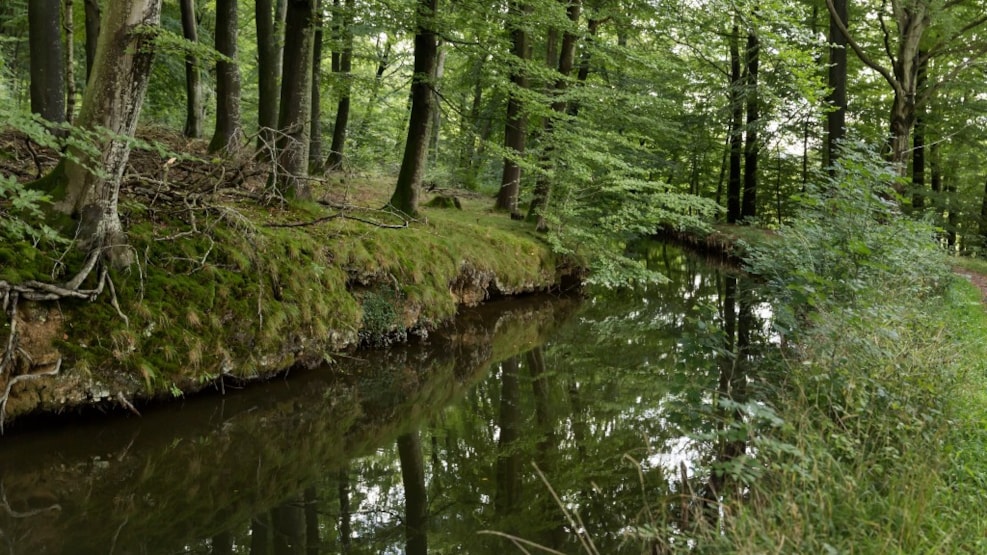 Pamhule Forest
Take a trip in the forest.
Pamhule Skov covers around 300 hectares and is one of the largest forests in the area. The name means "the forest in the hollow amongst rolling hills".
The forest was originally deciduous. Today half of it consists of beech, whilst the rest of the wood is mainly made up of oak, ash and various coniferous trees.
The forest is a great location for birds. Pamhule Skov has been designated a protected area for woodland birds in order to preserve the habitats of, for example, honey buzzards, kingfishers, grey wagtails, dippers, green woodpeckers, spotted woodpeckers and black woodpeckers. You can also find ravens, herons, goshawks, common buzzards, sparrow hawks and red kites. Foxes, badgers, squirrels and hares also live in the forest, as well as a large population of deer. 
"Udsigten" (The viewing point) is amongst the highest points in the forest and from here you can see both Hindemade and Haderslev Dam.
In the south-western corner of the wood, are the remains of a small fortification known as "ringvold". It is a circular earthwork, which is around 65 metres in diameter. Neither the rampart nor moat are intact, but the south-east of the fortification is well preserved.
In Pamhule Forest you will also find a one-way mountainbike-trail that winds through no less than 11,1 kilometers of the forest floor. On the route, you will meet several technical passages and challenging descents, which sets the scene for lots of entertaining driving and, at times, an adrenaline rush. There are challenges for everybody, even the more experienced MTB-riders. On the route, the rider has to climb e.g. Udsigten (the view) and Bjerget (the mountain), which can leave most people breathless.
From Pamhule Skov you can visit Haderslev Deer Park, one of the largest Deer Parks in Denmark, Haderslev Dam, as well as Restaurant Damende, Christiansdal and Tørning Mølle, depending on how far you would like to cycle or walk.