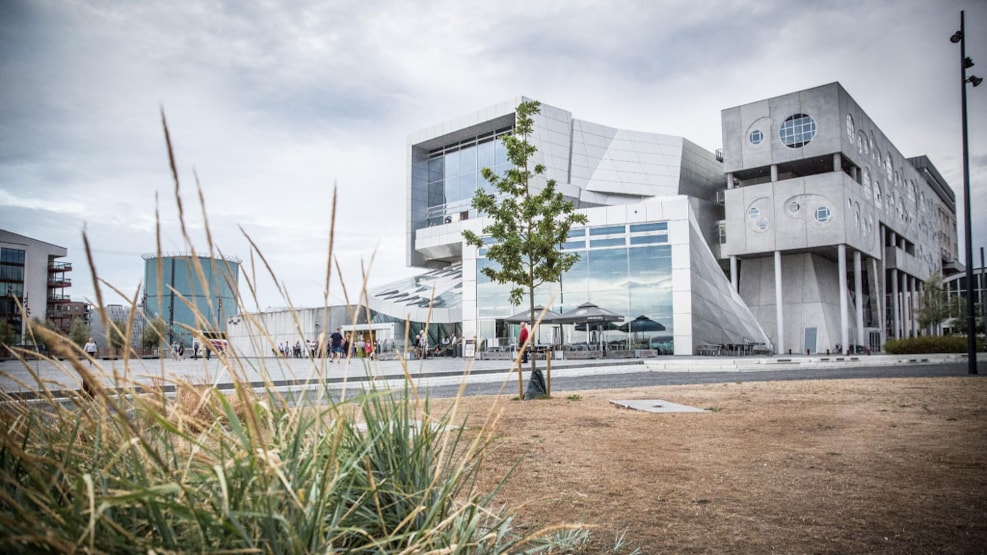 Musikkens Hus
With a location on Aalborg waterfront, right down to the Limfjord, you will find Musikkens Hus a beautiful landmark for North Jutland. Here you can expect a fantastic experience that you won't forget.
From the moment you enter the foyer of Musikkens Hus, you will from all angles and edges be able to experience the world-class architecture that creates the setting for unique moments in the marvelous world of music. Here, nothing is left to chance, on the contrary, everything is carefully thought through to give you as a guest the best experience possible.
The building is created by the internationally renowned architectural firm Coop Himmelb(l)au, and contains four concert halls, five stages, a restaurant and the Aalborg Symphony Orchestra, Det Jyske Musikkonservatorium (the Jutland Conservatory of Music) and Aalborg University are permanent residents. Every day there is a pulsating music environment to be found around the house.
Diverse concert halls
In the center of the house, you will find the beautiful Concert Hall with acoustics worthy of an international concert hall. Here there is room for no less than 1298 people. If you move down to the basements, you will find three concert halls - the Intimate Hall, the Classical Hall and the Rhythmic Hall. The intimate hall is, as the name suggests, a hall where you get very close to the artist. Here you can experience everything from acoustic concerts to lectures. The two other halls are at the disposal of Det Jyske Musikkonservatorium, and here you can experience upcoming musical talents.
A program for everyone
The exciting and extremely comprehensive program makes it clear that the Musikkens hus is for everyone. In the program you will find events of different sizes, within different genres, with a focus on communities and room for children, teenagers and adults - from enchanting symphonic works and fascinating lectures, to shows that get the audience out of their seats. In other words, Musikkens Hus is a relevant gathering place for everyone who loves music.
Restaurant Fauna
In the corner of Musikkens Hus, and with one of the most beautiful views in the city, you will find Restaurant Fauna. A restaurant in a class of its own that is ready to give you a tasty experience. On the menu you will find many choices that embrace different experiences - here you can enjoy goodies before the big concert, a cup of coffee to go, the simple lunch and much more.
A musical community
Musikkens Hus places great emphasis on a musical community and they show this through the three different clubs you can be a part of; namely Musikkens Jazzklub (Jazz Club), Musikkens Børneklub (Children's Club) and Musikkens Kammerklub (Chamber Club). As a member, you will not only become part of a larger community, but here you can also look forward to unique benefits, special offers and much more.
Get behind the scenes
If you are interested in experiencing what Musikkens Hus looks like backstage, then you have the opportunity for a tour behind the scenes. On selected Saturdays and Sundays, all year round, you can secure a spot on their tour, where you will be shown around by a tour guide and hear exciting stories about Musikkens Hus. If you are part of a larger group, a private tour can be booked.
Sustainability in focus
In addition to finding its place on the cultural world map, Musikkens Hus has also found its way to a prestigious sustainable community. Because in 2020, the house has been sustainability certified with DNGB gold as Denmark's first concert hall. Musikkens Hus is therefore not only a proud landmark for the city when it comes to music, but also to ensuring a more sustainable world.
Read more about Musikkens Hus...
Travel sustainably with bus and train in North Jutland
Getting around North Jutland with public transport is effortless. Plan you trip with bus, train or 'Plustur' on rejseplanen.dk.