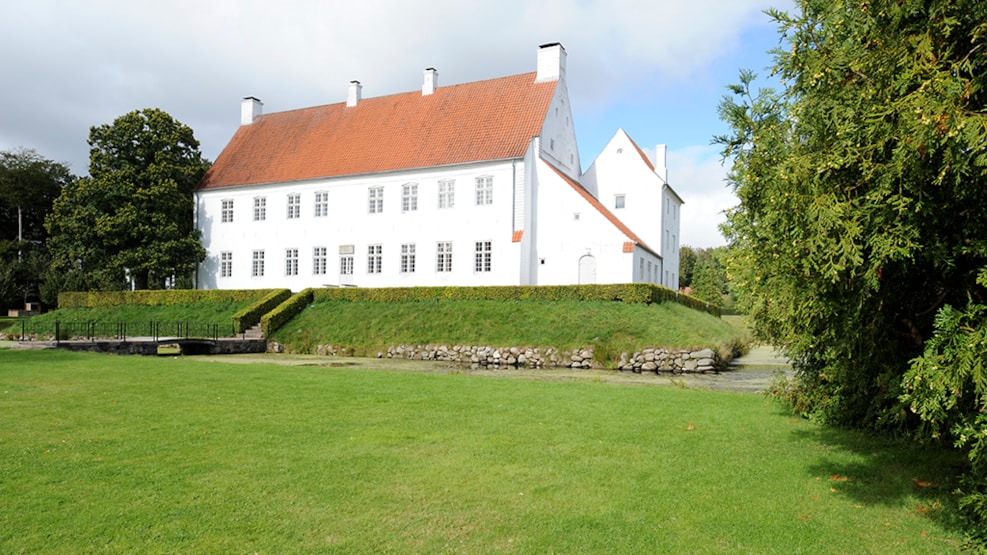 The Museum at Sønderskov
The museum at Sønderskov is housed in the listed Sønderskov manor south of Brørup, which dates from 1620 but has a history dating back to the Middle Ages.
The museum's permanent exhibition focuses on the region's cultural heritage, including:
- Manor life
- Weaving schools in Askov
- Grave finds from Klelund
- The manor organ
- The pigeon loft

In addition, there are a number of special exhibitions and special events.
Decorations
Extensive restoration work has secured a number of original murals on different surfaces. The entrance hall features the rune stone from Malt, and in the conservatory there is a collection of Baroque garden pots.
From the south facing windows of Sønderskov there are views to the magnificently restored Baroque gardens. Here there are formal lawns, fountains and ancient woodlands. The parkland path (Møllestien) leads visitors to the new kitchen gardens that are tended by volunteers and past a collection of old garden ornaments. The path passes through a classical manorial landscape down to Sønderskov Watermill.
The museum at Sønderskov is a nationally recognised heritage museum for Vejen Municipality and covers archaeological exhibitions as well as recent history – from the Stone Age to yesterday.
Museum shop
Visit our museum shop, which sells e.g. honey from our own folk garden, wrought-iron artefacts from the forge at Sønderskov as well as historical literature related to the area. In addition, the store features toys from bygone times.
Distance
Cycling route The Ancient Road Hærvejen 5 km