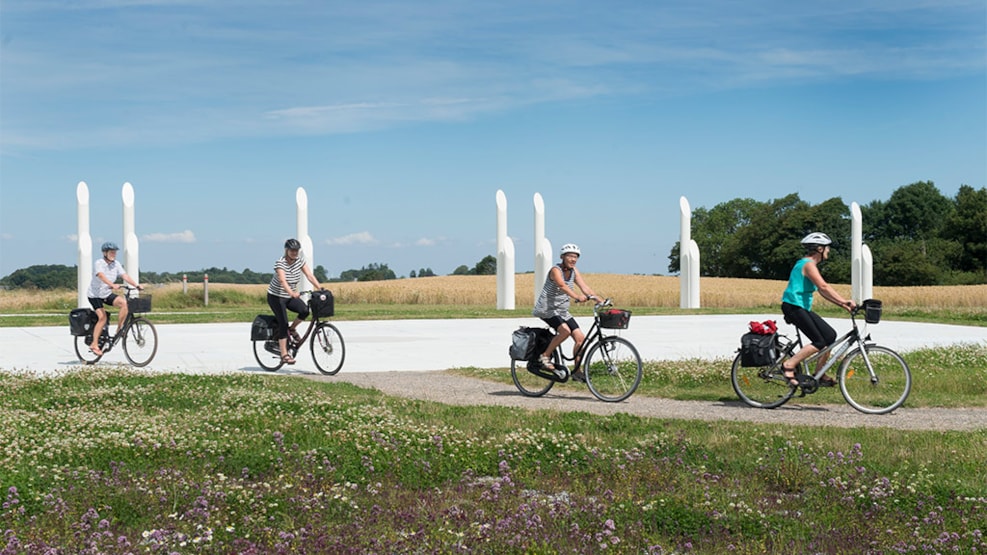 The Medieval Route - Regional Bicycle Route No. 35
On the cycle route The Medieval Route - Regional Route 35, you will come through Jelling and past ancient barrows, Ravningbroen in Vejle Ådal and Jutland meadows. Starting with the Ancient Road (Hærvejen) the medieval route is a journey through Danish history. Download the route to GPS.
Starting with the Ancient Road (Hærvejen), the Medieval Route (Regional Route 36) is a journey through the history of Denmark. On Regional Route 36, you pass meadows and ancient barrows, which testify to the ancient history of the route as a thoroughfare for wayfarers and cattle drivers.
Along the Medieval Route, you pass Jelling where the rune stones bear witness to the Viking Age and represent Denmark's 'birth certificate'. The site is well worth a visit before continuing the tour down towards the lake of Fårup Sø. Stretch your legs at Engelsholm Castle and again at Ravning Bridge, a section of Harald Bluetooth's 750 m-long oak bridge built to cross the Vejle Ådal valley. The Egtved Girl also lived in this area, and a small museum near her barrow tells the story of her life and death during the Bronze Age. Prehistoric times have also left their mark on the last part of the route where you pass a number of Bronze Age burial mounds.
The Medieval Route continues another 20 km to Stepping.
It takes approximately 2 hours and 25 minutes to cycle the route from Jelling to Lunderskov.
Download the route to GPS here.