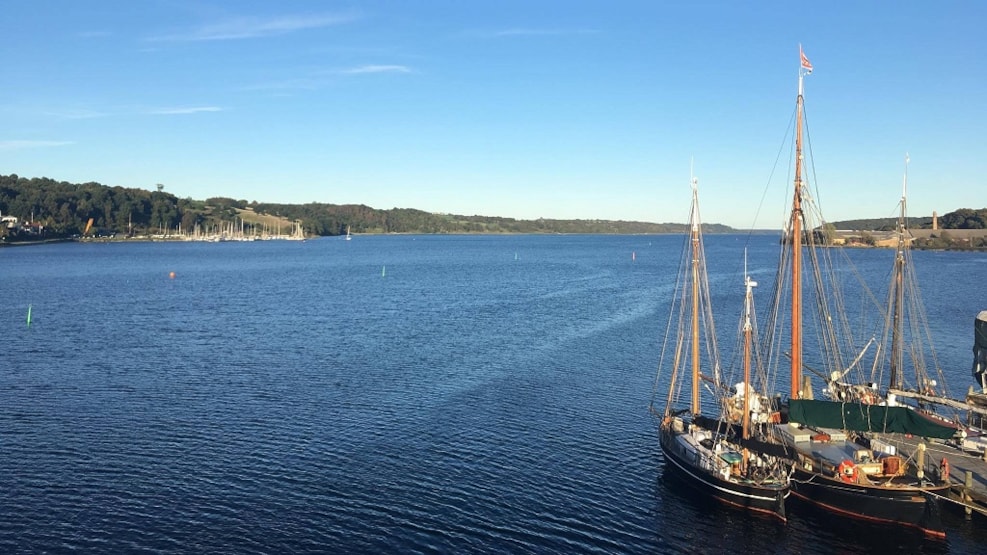 Maritime Culture Center and Hobro Shipyard
The Maritime Culture Center Mariagerfjord is a relatively new attraction in Hobro. Here you can step into the maritime world, where wooden ships and their construction are showcased. The Maritime Culture Center has been established in connection with the old wooden shipyard from 1849, located right next to it, at the harbor in Hobro.
The building that houses the Maritime Culture Center is also called the Shipwright House. Inside, you can explore the history and learn about how the old ships were restored in the old days and how it is done today.
As something new in 2020, the famous fin whale returned to Hobro, where it ended its days in December 2018 after a 10-day "stay" in Mariager Fjord, primarily in the Hobro harbor basin. This means that there is now an exhibition featuring the skeleton of the whale at the Shipwright House, as well as its enormous heart, which can be viewed up close.
On the roof of the Shipwright House, you can enjoy a unique view of Mariager Fjord and Hobro.
From the Shipwright House, it is possible to follow the shipyard path and walk around Hobro Shipyard, which still functions as a wooden shipyard. Here you can see the beautiful old wooden ships that are being restored.
Denmark's oldest wooden shipyard.
Hobro Shipyard was built in 1849 as a shipbuilding facility by shipbuilder P. Møller from Copenhagen. In its more than 170 years of existence, the shipyard has been owned by a long list of significant shipbuilders. In 2008, the shipyard was taken over by Otto and Peter Leth but is currently operated by shipbuilder Peter Leth.
In 2016, the shipyard was completely renovated and expanded to become part of the "Maritime Culture Center Mariagerfjord," allowing the public direct access to follow the work at the shipyard, thus preserving the dissemination of the old craftsmanship. The ships visiting the shipyard gain great exposure as museum guests have the opportunity to follow the restoration, plank by plank.
Several times a year, there are special events at the Maritime Culture Center, including "Open Shipyard" and the annual Christmas market "Christmas in the Shipwright House." The house itself is open daily (from Easter to the autumn holidays) from 10:00 am to 4:00 pm. The shipyard path is open almost all year round, during the same hours.
Read more about the Maritime Culture Center Mariagerfjord here!