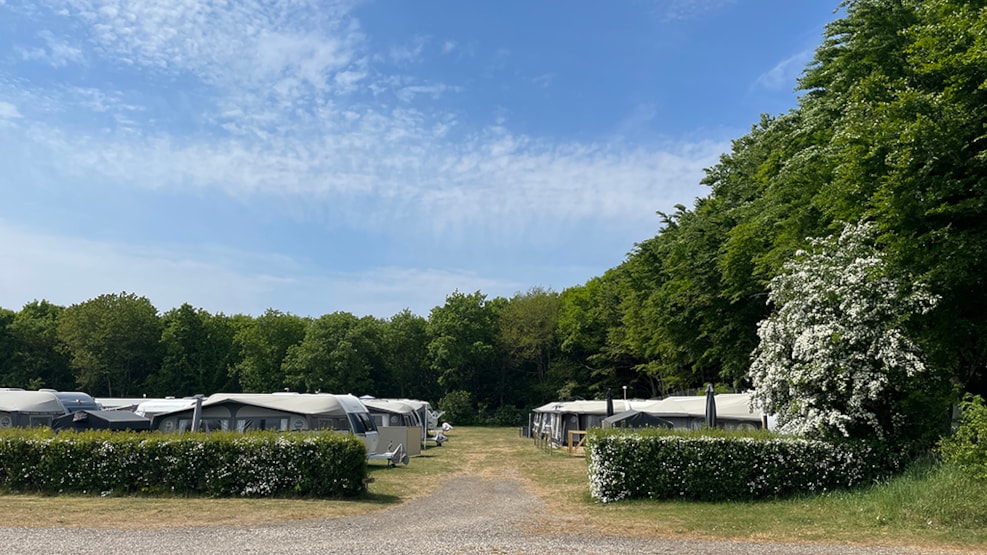 Løgstør Camping site
Løgstør Camping is a lovely campsite situated very close to the town of Løgstør and beautifully nestled in a charming forest. Here, you'll find nature, tranquility, and plenty of experiences.
Løgstør Camping is located in the beautiful Christiansminde Forest. Our site is situated right in the middle of town, adjacent to the forest, and requires only a short, scenic walk before you reach the harbor and Frederik VII's Canal.
In Løgstør, you can enjoy both the town's numerous events and a magnificent view of the Limfjord. Whether you're into Truck Shows, Mussel Festivals, or Jazz, Løgstør has it all.
At the campsite, you can find tranquility to enjoy your vacation in one of our rental cabins or on one of our 123 pitches. We have all the facilities you need for a relaxed holiday, including indoor and outdoor kitchens, a covered garden room, a playground with a bouncy castle, and newly renovated family bathrooms from 2022 with free hot water. Additionally, there is free wireless internet across the entire site.
We offer winter camping so you can experience autumn and winter in Løgstør. Events here don't take a break, and in town, you can experience the Fall Festival, Halloween, the arrival of the Christmas ship, and a Christmas concert.
Facilities:
123 pitches
3 large cabins with bathroom and toilet
3 standard cabins
Tent site with good shelter options
Bouncy castle
Playground for children / recently renovated
Common kitchen
Free hot water
Family bathrooms / recently renovated
Common room / recently renovated
Outdoor kitchen