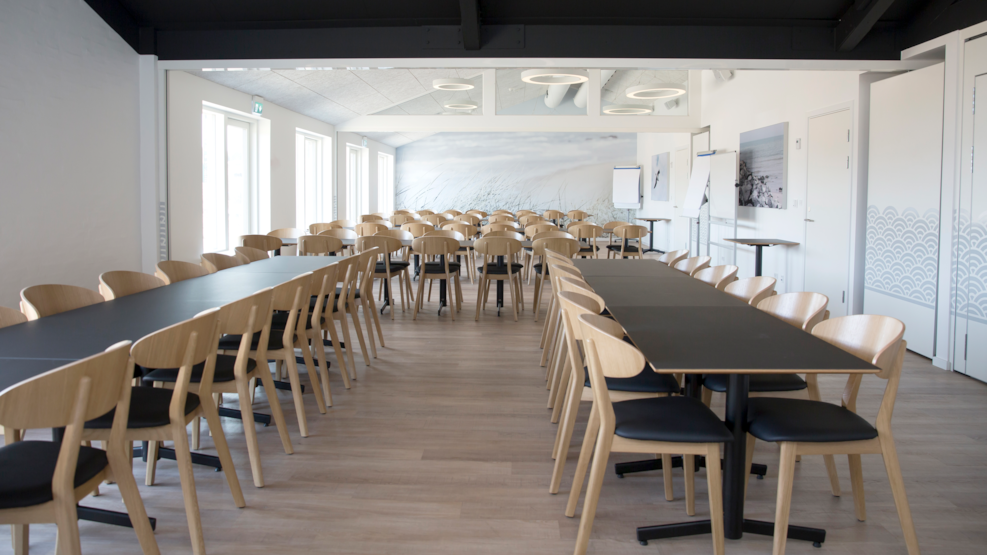 KONFERENCECENTER, Skallerup Seaside Resort
Conference center, Skallerup Seaside Resort offers state-of-the-art meeting rooms and high quality catering.
We have modern, light meeting rooms in picturesque surroundings. Our new rooms are fitted with modular walls and doors, which ensure great flexibility, with it being possible to convert 3 small rooms into a single large room. Adjacent to this is an area which can be used by participants for working in groups. In addition to the 3 rooms and the adjacent area, we also have a small room for max. 12 people.
The meeting rooms exit onto a lovely spacious terrace with tables, chairs and lounge areas. The terrace enables participants to get a breath of fresh air during breaks or to use the facilities for group work.
All 4 rooms are equipped with AV screens with various cables and adapters, whiteboards, flipcharts and conference boxes.
We offer catering of the highest quality based on local ingredients. All meals are prepared by our restaurant and are put together as and when required.
We're located just a few hundred metres from the beach and the sea, which enables you to enjoy quiet contemplation and immersion in your thoughts, as well as being able to work with creative processes or lay down strategies. Skallerup exudes history and atmosphere, and as a guest you'll feel comfortable right the way through from arrival to departure.
We'd be happy to draw up a quotation for your next event incorporating your specific wishes.