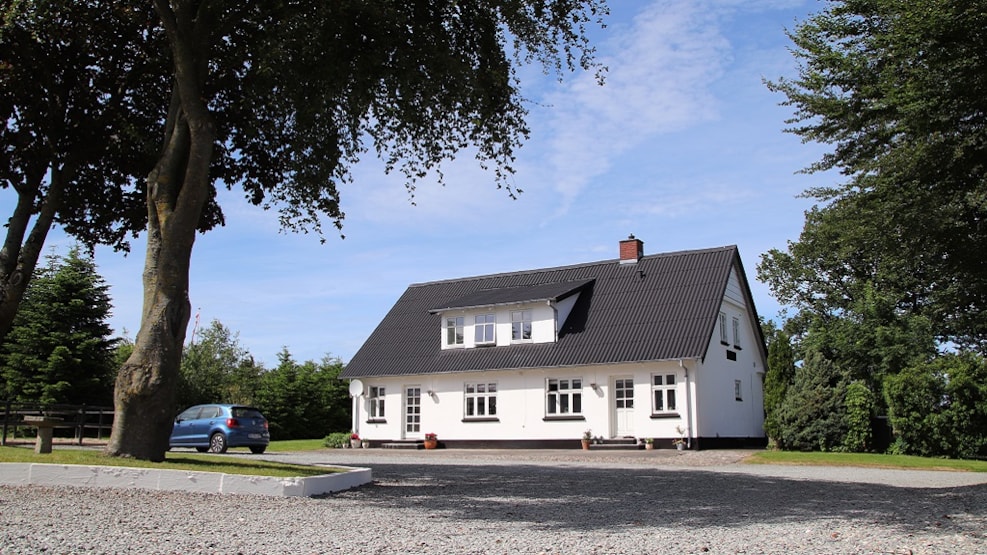 Jogi Bed & Breakfast
Homely surroundings, close to nature:
Welcome to Jogi Bed & Breakfast
In the idyllic surroundings in the village Try you find the homely Jogi Bed & Breakfast.
Here, the host family invites up to four guests to stay for up to as song as it suits you. You have the whole upper floor at your disposal.
Here you have a bedroom with 2 single beds and a living room with a large sofa and space for two extra beds. The living room also holds a dinner table arrangement and TV. Free WiFi is available everywhere.
At your floor, you also have a kitchenette with cooking plates, combi oven, refrigerator, coffee machine, toaster and tableware. You have your own private toilet, and the floor can be locked for your privacy.
Toilet and bath facilities are on the ground floor just down the stairs. This toilet is occasionally shared with the staff of the place.
All four-legged family members are welcome to stay.
For booking of overnight stays:
Call on phone +45 30 68 74 78 or +45 40 81 16 26
Prices:
DKK 500 for 2 persons (from 7 years) per night in double room (2 seperate beds)
DKK 350 for 1 person (from 7 years) per night in double room
DKK 100 for 1 person between 2-7 years per night
Children under the age of 2 that sleep in the same bed as a parent are free of charge.
Bed linen:
Bed linen and towels are included in the price of the overnight stay.
Extra:
Free coffee.
Option to cook your own breakfast and small meals in the kitchenette.
Other amenities:
Outside you have a private undisturbed terrace with garden furniture and view to the lovely garden.
Just outside you also have all opportunities to explore, play and have a good time with the family. The surroundings invite to great walks in nature and other outdoor experiences.
Attractions nearby:
The nature in Dronninglund Storskov and Jyske Ås
Perfect for the quality-conscious horse owner
The place provides facilities for modern stabling of horses incl. washing facilities and more., as well as great riding facilities both in- and outdoors.
Do you wish to bring your horse, just call and make an appointment with Gitte or Jørgen on phone +45 30 68 74 78 or +45 40 81 16 26.
Read more about Jogi Horses on their Facebook page: https://www.facebook.com/jogihorses/