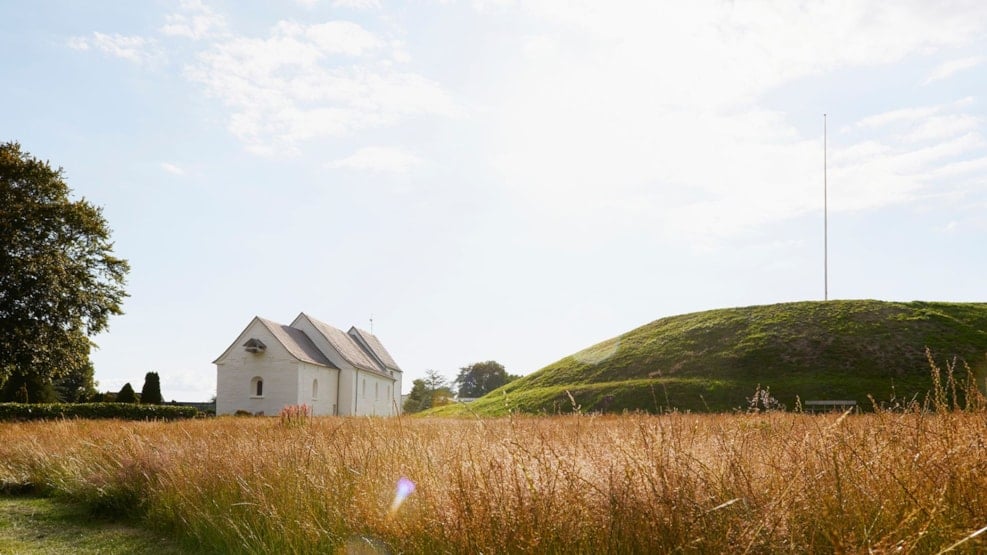 Jelling Church
Jelling Church dates back to around 1100 and is the fourth church on the site. The first was a wooden church erected in the eighth century by Harald Bluetooth as a mausoleum to his father, Gorm the Old. Jelling Church is a UNESCO World Heritage Sites. 
The first church was razed by fire and was later replaced by a church in Romanesque style constructed using travertine stone. The low western church tower was added in the late Middle Ages.
What are believed to be the first Danish frescos were discovered in the chancel in 1875. The Byzantine-inspired frescos were replaced the same year by copies made by artist Magnus Pedersen. In 1926, these frescos were restored by Johan Thomas Skovgaard, who also created the frescos on the southern wall.
In 2000, the body of King Gorm the Old was re-entombed in the church following extensive study at the National Museum of Denmark. The church had in the meanwhile undergone extensive restoration and redecoration by artist Jørn Larsen. A ceremony was held with the participation of Her Majesty Queen Margrethe II and the Royal Family.
Jelling is home to some of Europe's finest Viking-Age monuments: Denmark's two largest grave mounds and two rune stones erected in the eighth century by the kings Gorm the Old and Harald Bluetooth.  
The rune stones, the church and the two royal grave mounds, which in 1994 came under UNESCO patronage, symbolise the transition from paganism to Christianity in Denmark.   

The church may on occasion be closed for religious services. Service on Sundays at 10.30.