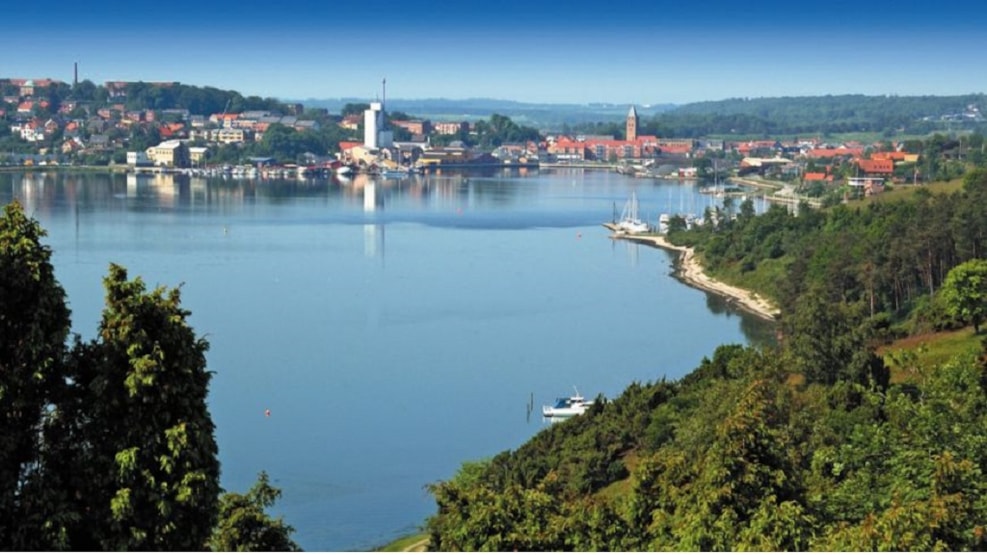 Hobro - Homestead of the Vikings
At the inner part of Mariager Fjord lies Hobro, the largest town in the Mariagerfjord municipality. Hobro is known for its Viking fortress Fyrkat, which was erected a thousand years ago a few kilometers outside of the town. Here, too, lies the Viking Center Fyrkat - a reconstruction of a Viking town, with loads of activities all year.
In downtown Hobro, you will find a wonderful pedestrian street, with lots of shops and various kinds of entertainment. In the old brewery yard is Bies Gaard, where a new microbrewery is in the process of moving in, and which is still the home of the town's art museum named Kunstetagerne.
At the harbour, new and old come together in a mix of history, atmosphere and culture. Today the old storehouses and historical buildings on the southern wharf are home to cafés, a theater, museum and a gallery, while the northern wharf still services freighters from around the world. At the Pleasure Craft Museum (Lystfartøjsmuseet), you can see the boats that once sailed on the fjord, and farther down the harbour is the Gas Museum and the Maritime Culture Center, where there is finteresting maritime experiences in store for the whole family. The southern wharf is also home to the "paddle steamer" Svanen, which sails to Bramslev Bakker and Mariager throughout the summer. Hobro offers a wealth of dining establishments and all kinds of lodging. Campgrounds and a hostel are close to town, and Hotel Amerika lies in the beautiful Hobro Østerskov. 
The area around Hobro offers a wealth of different attractions and tours, both on foot, bicycle, and car, such as the World Map in Klejtrup, Bramslev Bakker, the Vintage Railway, Rold Skov, and more.