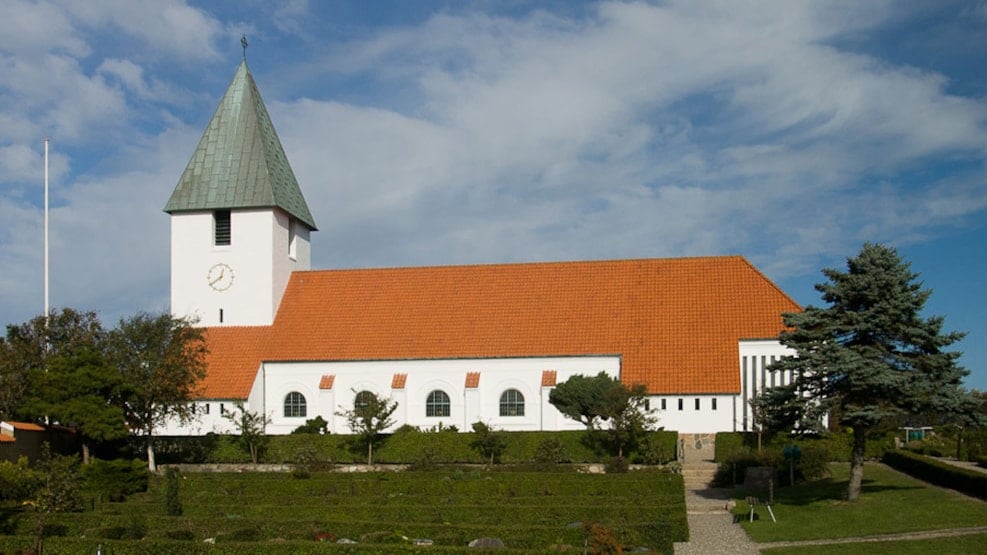 Hirtshals Kirke (Church)
The church in Hirtshals opened in 1908 by bishop Christian Møller from Aalborg. The church cost 33.000 DKK to build and were paid by the locals and through governmental funding. Before the church were build the 500 residents of Hirtshals had to walk to Horne to go to church.
When the church opened in Hirtshals it had 200 seats and the design was simple. The altar, baptismal font and the pulpit was in bright sandstone.
In the aisle of the church the church ship hangs. This is a tall ship and was made by the harbor master in Frederikshavn and was a gift from the citizens of the town for the opening in 1908.
Every bench is decorated with a small painting, made by Frits Gothardt Rasmussen from Ringe.
The altar is of Christ on the cross with the mother of Jesus on one side, and the apostle Johannes on the other side. In the 1960's the church went through major changes and in 2007 the church got a new organ and were renewed.
The church in Hirtshals is a part of Hirtshals and Emmersbæk parish.  
At the church there are bathroom facilities that are available until 17:30 pm.
Services and activities
In the church of Hirtshals many different arrangements take place such as services, concerts, lectures and other activities for every age. Read more about the different arrangements here.