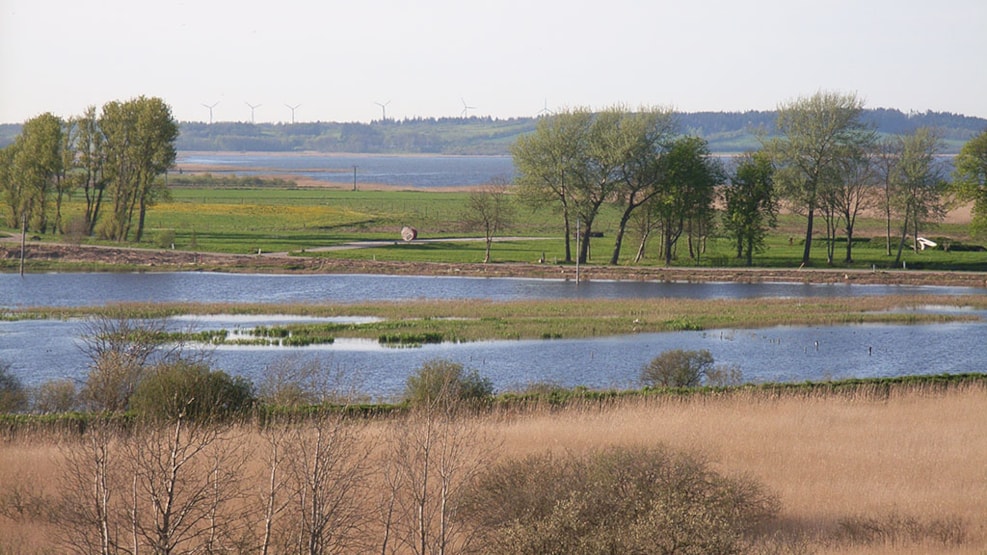 Halkær Lake
Halkær Sø is a lovely natural resort with a beautiful view. There is a variety of bird life around the rebuilt lake, which gives ample opportunity for a great nature experience for all kinds of visitors.
The area around Halkær Sø has been a river valley since the last ice age, where the water from Sønderup Å and Halkær Å ran into the broad of Halkær. Human settlements have been found in the area going as far back as the Stone Age, and the areas surrounding the lake was used for grazing.
The lake that disappeared and reappeared
In the beginning of the 1900s, a drainage system was established, and the lake was drained, and the area repurposed for agriculture. The lake was gone until 2005, where it was accidentally rebuilt by a flood that covered around 247 acres. A surrounding 124 acres are now meadow and wetlands.
Bird life
The recreation of the lake has attracted a great deal of various birdlife to the area, making Halkær Sø an amazing location for ornithologists, whether professional or amateur. You will find anything from wading birds to birds of prey within the area. Specifically near the lake, you can find grebes, ducks and swans, and near the wetlands, there might be kestrels.
Facilities and attractions
On the eastern shore of the lake, there is a parking lot with a very good vantage point. This is also where the old pumping station was located, and where you can now find information and seating areas. On the western shore, there is another parking lot, with an equally stunning view.
The southern shore is inaccessible, as this area is reserved for the wildlife. The northern shore, however, houses the Halkør Mill Naturcenter, a nature center with an exhibition detailing the area's history and nature. There are also shelters by Halkær Å Camping Site for those interested in overnight stays.