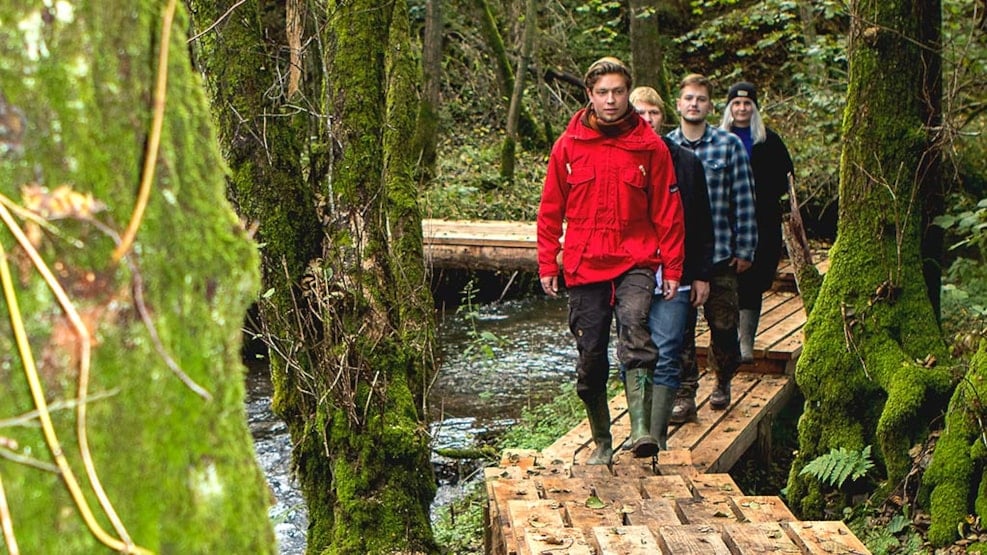 Grejsdalstien – hiking route between Vejle and Jelling
Grejsdalstien is a 16-kilometre hiking route between Vejle, Grejs and Jelling that passes through some of Denmark's most spectacular natural scenery. You can start the tour in Vejle along the road St. Grundet Skovvej located behind Vejle Hospital, and in Jelling you can start at the experience centre Kongens Jelling.
The whole hiking trip takes about 3-5 hours. You can return by either rail or bus service between Jelling and Vejle.
Grejsdalstien from Vejle towards Grejs passes through Grejsdalen, one of Denmark's deepest and most beautiful valleys. To your right, you will see steep wooded cliffs with several areas of erosion that cut deeply into the hilly landscape. To your left, you will see the river of Grejs Å and the railway tracks. At Hørup Bro, the route leaves Grejsdalen and continues northwest with the river of Hørup Bæk on your left. Also on this stretch you will wander through a varied forest in a scenic hilly terrain. Along the way, you pass through the unique woodland of Brandbjerg Sønderskov, which has been left untouched since 1997 and is particularly rich in rare plants and fungi. The last of the hiking route passes along a gravel road through open countryside with farmlands and hedgerows to eventually reach the Ancient Road Hærvejen, which leads directly past the experience centre Kongernes Jelling.
Grejsdalstien is marked with orange signposts and most of the route is easy without major climbs, but around Brandbjerg Sønderskov you will experience a hilly terrain. Public toilets are available by the campfire hut at the forest edge close to the Grejsdalstien hiking route by Brandbjerg Højskole. Along the way there are wooden walkways to help you pass over the wetland. Note that during periods of heavy precipitation some stretches can be muddy and so wearing good hiking boots is recommended.