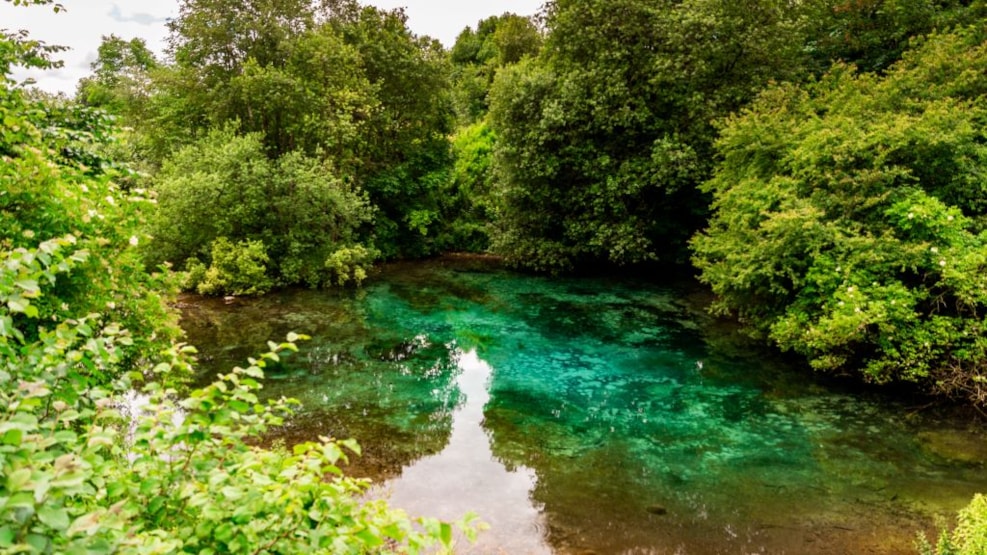 Gravlev Kilde
Right at the foot of Kirkebakken in Gravlev lies a beautiful, large basin spring. From the vantage point approximately 15-20 m. up, the spring looks fantastic with its crystal blue water, pulsating up from the bottom. Between 100 and 150 liters flow into the nearby lake every second, making it one of the largest springs in Denmark. 
History of the spring
Gravlev Spring has a long history. In ancient times springs were often places of worship and later churches were built close to or on top of the springs, to eliminate paganism. The same probably happened with Gravlev Spring, as a church was built here in the 1100's. During the middle ages, the spring was used as a holy well.  
In 1938 the highway was constructed on top of the spring, which forced the spring eastward. It was also used as a source of water for a fish farm in the area. 
In 1995 the original spring was restored to its former glory as part of a nature restoration project by the Danish Nature Agency.     
Wildlife
While the spring has served many functions, wildlife has always been attracted to the area. Trout, kingfishers, grey wagtail and white-throated dipper all call the spring home. If you visit the spring during winter, you might see the sea trout spawn in the nearby brook.     
It is possible to park in the parking lot next to the church.