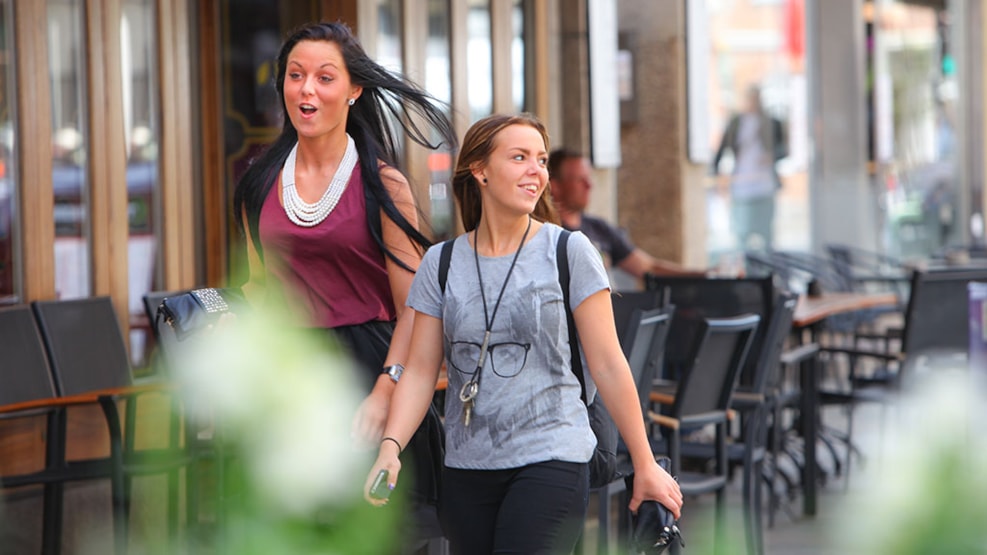 Gravensgade in Aalborg
Gravensgade is a little street located between Bispensgade and Algade. In Gravnesgade, the focus is on quality and beautiful design and you will find plenty of goods in all of the specialty shops here.
Gravensgade offers everything from fashion wear, jewelry, and interior design to personal care. The latter is found in The Body Shop, where you enter a universe of scents and colors with its recognisable design and products that speak to all the senses. 
Danish Design and a Scent of Leather
If you are on the lookout for something new for your home, Georg Jensen Damask is the place to go. They are experts in interior design and no one questions the quality of their products, given the Danish design. If you are looking for some decoration for yourself, the jeweler Guldsmed Iben Rasmussen offers a broad selection of jewelry from different brands and all kinds of designs.
In Freja Skind, there is a great variety of purses and wallets in exclusive leather to choose from. The scent from all the leather goods is hard to resist when you make your way down Gravensgade, and it will most likely lure you into the shop for a quick look around.
Temptations for Both Historians and Hedonists
Breaking away from all the shopping, you can go through a narrow and crooked alley, Latinergyden, which leads to the Monastery of the Holy Ghost (Aalborg Kloster). Here, you are perfectly secluded from the hustle and bustle of the city, while getting the opportunity to investigate the idyllic surroundings of the monastery.
You can also call a time-out at the lovely bakery La Bonta, which, among other goods, offers sourdough bread and bread with no added sugar or fat. They have an inviting seating arrangement outside the shop where you can sit and enjoy your baked goods and a refreshment.
More shopping, more food
The first part of Gravensgade offers all kinds of shopping, and if you go through it, and to the second part of the street, it is a perfect spot to take a break. Gravensgade intersects with Bispensgade, and on the other side of this street you are met by Vesterå, which offers an exciting selection of culinary experiences. Gravensgade thus provides for shopping, a pleasant walk down the street, exploring side streets and relaxing with refreshments.
Read more about other shopping possibilities in Aalborg in Algade, Nørregade, and Bispensgade…