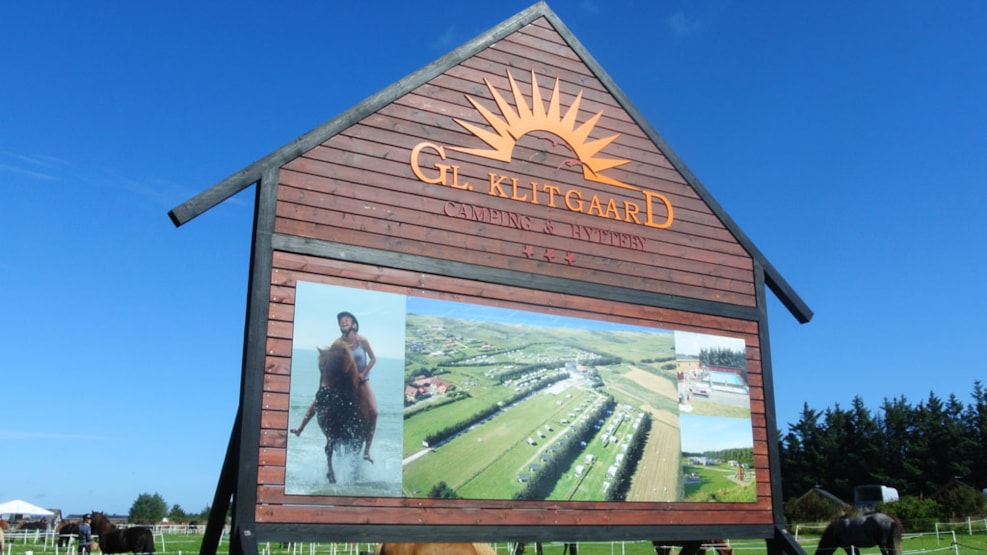 Gl. Klitgaard Camping & Hytteby
Modern campsite in the attractive surroundings of Nr. Lyngby
Gl. Klitgaard Camping & Hytteby is located near the North Sea in the pleasant holiday village of Nr. Lyngby. If you drive 6 km south then you come to Løkken, which buzzes with life.
Løkken has a large selection of shops and restaurants, not to mention a beach with many white beach huts. If you drive in the opposite direction to the north, then you will arrive in Lønstrup, which is a delightful holiday town, also offering a variety of craftsmen in their open workshops and restaurants and cafés.
Gl. Klitgaard Camping is located in one of Denmark's most attractive natural areas with views of Rubjerg Knude. Many walking routes lead from the campsite, such as the North-East path along the edge of the campsite.
Gl. Klitgaard Camping is both suited for guests who long for peace and quiet, but also more active visitors. We offer many activities – younger campers, in particular, can choose from many interesting activities and, together with their parents or other children, can feed the various animals. The children can also experience the natural surroundings on horseback. They can ride themselves or be led by adults on lovely, good-natured Icelandic horses. There are also many other possibilities: our activities include football and rounders matches, and there's face painting, so even the sweetest child can be transformed into a "dangerous tiger"!
The campsite varies in shape, so there's always a spot for those who want to shelter from the wind, but also for campers who want to enjoy a nice view of the magnificent natural surroundings. There are 20 huts at the campsite, 10 of which have their own toilet and shower. This makes Gl. Klitgaard Camping a popular destination, especially for family get-togethers.