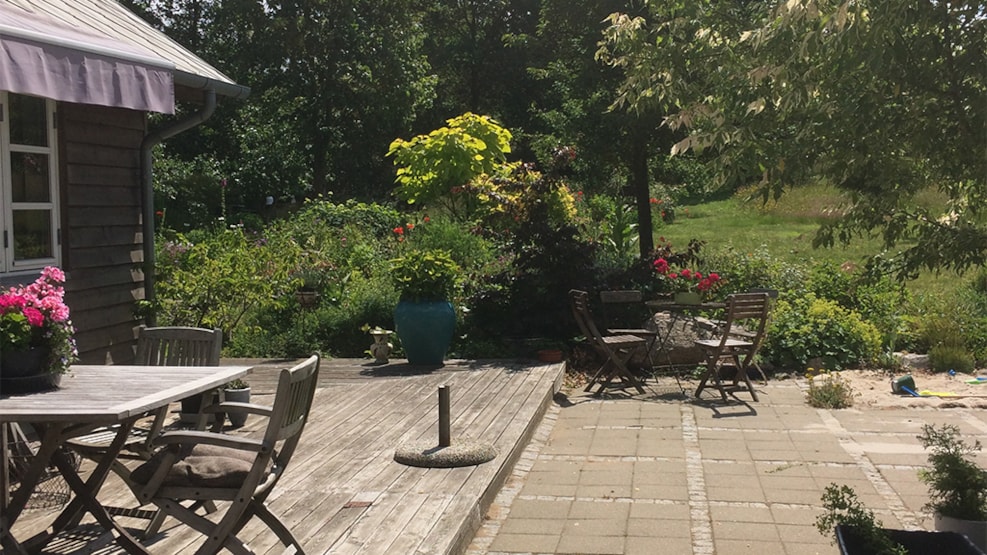 Fruens Bøge, Bed and Breakfast, Læborg
This is a magical spot very close to the hiking and biking route of Hærvejen.
Fruens Bøge Bed and Breakfast is located near the edge of the heartland wood of Hundsbæk Plantage. Here you will find a special calmness surrounding you which will indeed highten your sense of mindfulness of hiking. This place is the ideal place to sleep for the night when walking or hiking the trails of Hærvejen. There is room for 2 people in a room with a double bed.
You will find Fruens Bøge Bed and Breakfast in the village Læborg, between the towns of Vejen and Bække.
Kirsten will welcome you into her home and her lovely garden and she loves a good chat. Kirsten knows a lot about the local area and can tell you about the history of the place and of Hærvejen near Læborg.
There is one room with a double bed near the main entrance of the house. The bathroom is in the other end of the house.
There is parking space next to the house.
If needed it is allowed to smoke outside the house.
Be aware that if you need to do any shopping you need to plan ahead as there aren't any shops in Læborg.
You can buy dinner at the café at Vejen Golf. Ask Kirsten for directions.
You can order breakfast for 50 Danish Kroner per person.
 
Distance to Hærvejens hiking trail: 1.5 km
Distance to Hærvejens biking trail: 2 km