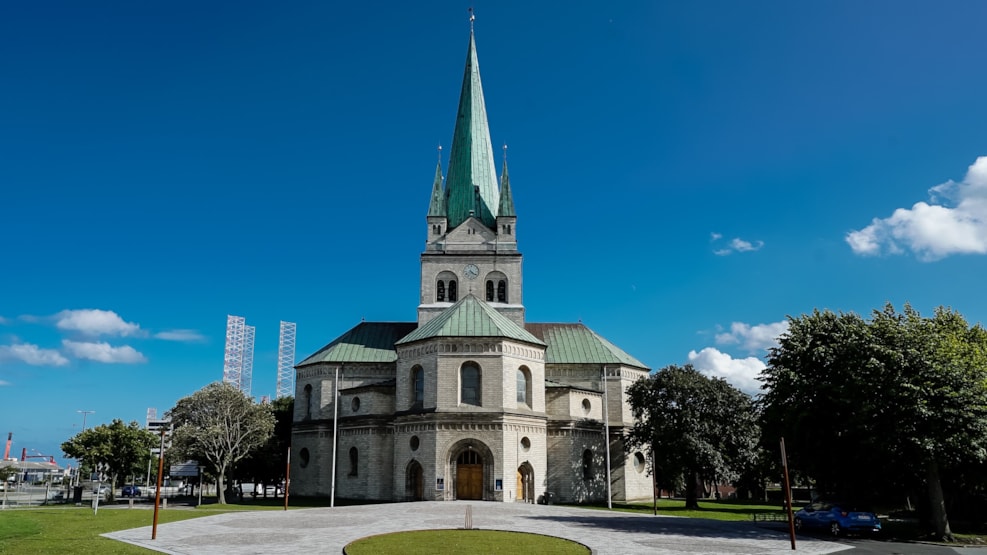 Frederikshavn Kirke
Frederikshavn Kirke was inaugurated in 1892.
It is a chancel church erected in pure Romanesque style of chalk stones, so-called Faksekalk. With the equally long cross arms, the church is completely symmetrical. The tower is 56.5 meters high. There are four smaller side springs on the tower.
The church's architecture is inspired by the monumental cathedral in Aachen, Germany, where Emperor Karl d. Store is buried. Nothing was too big and nice as inspiration when the new, thriving market town, Frederikshavn, was to have a new church. The interior of the church is dominated by the great vaults and the four powerful pillars. There is seating for 1160 people, partly on the floor and partly on the pulpit.
The church's cruciform floor plan is also inspired by the cathedral of Aachen and other famous churches, among others, the tomb church in Jerusalem, which is believed to hold the tomb of Jesus, and the great Hagia Sophia church in Istanbul, now converted into a mosque '(source; Frederikshavnkirke.dk)
The church's altar painting "Christ and the disciples by the lake of Tiberias" is painted by Skagen painter Michael Ancher.
The baptismal font is a kneeling angel carrying the baptismal dish. The font is made in marble and donated by Consul General P. Berg of Sct. Petersburg, born in Frederikshavn.