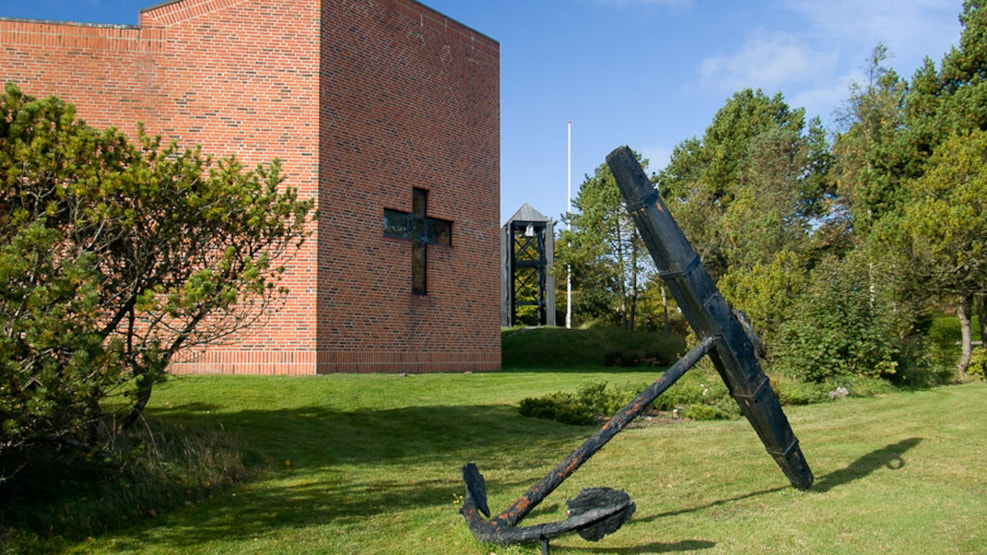 Emmersbæk Kirke (Church)
The Church in Emmersbæk, build in 1982-83, is located just south of Hirtshals. 
The church in Emmersbæk is from 1983 but were not recognized as an official church until 1985. The church is a part of Hirtshals-Emmersbæk parish and a part of the northern Hjørring deanery.
The church opened in 1983 by bishop Henrik Christiansen from Aalborg.
The building is designed by the architecture company Friis & Moltke from Århus and has a square shaped church hall. The church also has a kitchen, wardrobe, bathrooms, porch and priest room.
In the church there is room for 170 people if using the entire hall behind the sliding doors.
The bell frame is made of laminated wood from Lilleheden Limtræ, but in 2015 the tower had to be taken down due to poor construction. The bell is from Holland and in the bell, it is written "Glory to God in the highest heaven, and on earth peace to those on whom his favor rests." (Luke 2, 14).
The decoration in the church is made by artist Valdemar Foersom Hegndal, which has created a beautiful glass mosaic for the cross shaped window in the church.
Baptismal font, altar and the pulpit is made from laminated wood. In the baptismal font the baptismal basin is of brass.
The graveyard of the church was established at the same time the church became an official church in 1985. The graveyard is a lovely forest graveyard with many beautiful burial grounds.