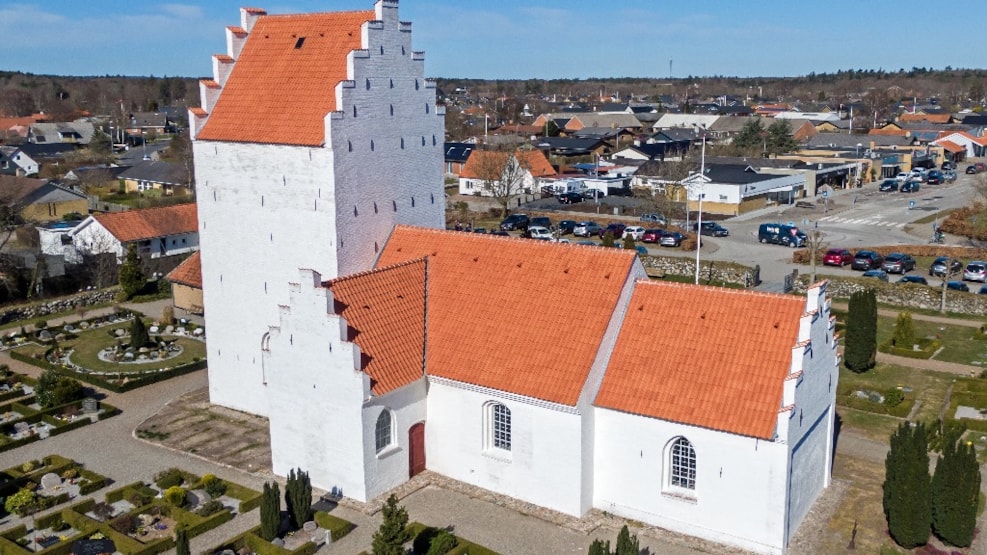 Elling Kirke
The Elling church was erected in the first half of the 13th century and bends on a moraine node near Elling Å.
The church is built of monk stones and thus belongs to the relatively small group of Reverse Brick churches. It is whitewashed and has red tile roof. The Revolving Bricks churches all have wall decorations in the form of licenses and arches. Instead of the usual round arches, the north side of the ship has a peculiar saw-toothed frieze.
The church has been continually added and renovated, including a south chapel to the ship and a massive tower with the distinctive combed gables. The church room itself has had some frescoes in the past, but these have now disappeared or been washed over.
Interesting fixtures include the Renaissance style altarpiece with a two-pillar canopy. The altarpiece dates back to 1635, but the painting in the altarpiece dates from 1969 and was done by Oscar Nicolaisen. The former altar painting from about 1900 can now be seen on the north wall of the tower room.
The church ship is a model of the warship "Printz Christian" from 1757, and thus is among the oldest ship models in Danish churches. The ship is donated by a local married couple.
In the cemetery that surrounds the church, you can see several old family burial sites dating back to time. Many of the tombs are also interesting from an artistic and cultural-historical point of view, and many are also preserved or registered as conservation worthy.