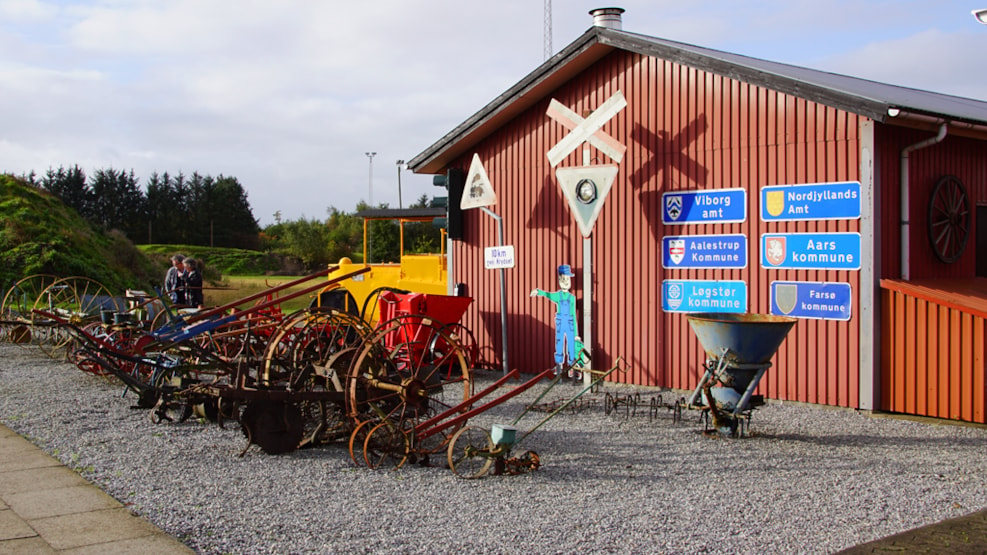 Danish Present-day Museum
The Danish Present-day Museum consists of a collection of objects from the everyday life of Danes over the past 100 years. An exhibition for the whole family.
The story of the Danish Present-Day Museum begins in the late 1980s when the now-deceased lawyer Gorm Pedersen from Aars returns home from a trip to Canada. There, he had seen an impressive museum filled with items and memories from the last 100 years. Excited by his experience, he establishes a foundation and engages a group of volunteers.
In May 1994, the Danish Present-Day Museum opens its doors with a newly established collection in a disused smallholding provided by the then Aars Municipality. Since then, the collections have grown, as has the number of buildings. With the latest extension in 2012, the museum now has approximately 1200 m2 of exhibition space.
Most of the items in the museum come from the everyday lives of the Danes as it looked 10, 30, 50, or 100 years ago. Here, there is a hairdressing salon displaying old curlers with wires and electricity. There is a 1930s home with contemporary kitchen utensils. In one corner, a general store is arranged, which many of the local visitors recognize. There is also a schoolroom set up as a village school from the first half of the 20th century.
In the agricultural section, there is an exhibition that covers the history of dairies from milk in glass bottles to bagged milk and today's carton milk, along with a miniature dairy in exact scale with both light and moving mechanics.
In the mixed country store, products like Rich's coffee substitute, bluing, and other fun "old" goods can be found. In the radio/TV section, there are old radios, portable gramophones with period-appropriate records, old and newer televisions, as well as modern equipment like boomboxes and videocassette recorders.
There is something to see for all guests of all ages. There is toys, dolls, calculators, computers, peat excavation tools, and old craftsman's tools. There are also shoemakers, saddlers, printers, and much, much more.
The core element of the Danish Present-Day Museum is voluntarism. All the objects have come as gifts, for example, from estates, heirs, and people who wanted to preserve the history of the Danes and their own for posterity.
The volunteer museum personnel meet diligently every Wednesday to perform repairs, arrange exhibitions, build, and clean. Among the retired enthusiasts with different professional backgrounds, there is no one with any special qualifications for museum operation. For the volunteers, it is the joy that drives them.
As part of Vesthimmerland Museums' Cultural Heritage Month in June, the Danish Contemporary Museum has an exhibition of clothing and teaching materials from the 20th century.
For further information, prices, and opening hours, visit www.dansk-nutidsmuseum.dk
Accessibility:
Parking near the main entrance

Handicapped-accessible toilet

Stable ground

Handicap-friendly doors

Placement of inventory for easy access by wheelchair users