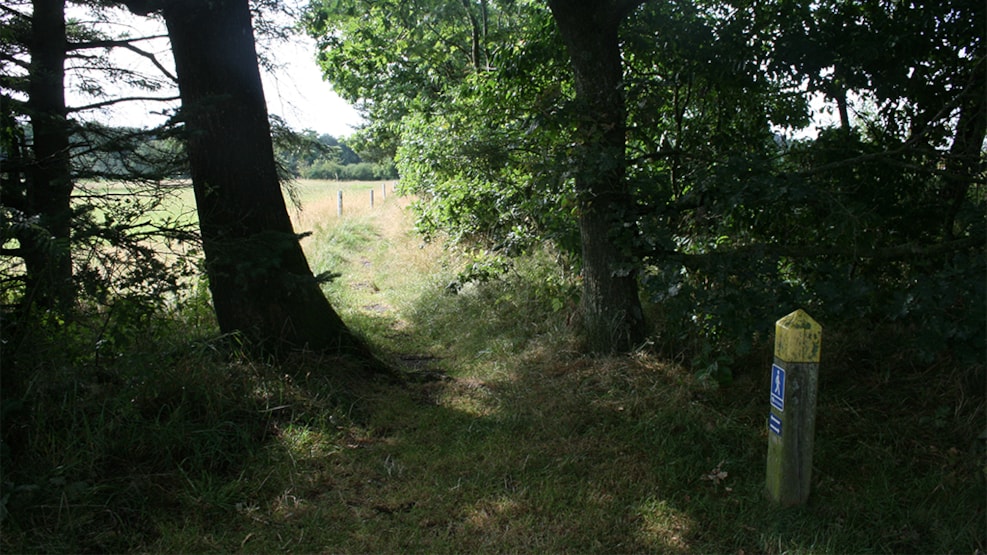 Coast to coast Trail
The Coast to Coast Trail is a hiking trail across Jutland and along the 3 large streams: Vejle Å, Holme Å, and Varde Å.
The 130 km long marked nature trail leads you through landscapes formed by the latest Ice Ages. From Blåvandshuk to Bække, you walk in the flat landscape which was ice free in the latest Ice Age and which today consists of flat moorland and plantations. Near Bække you pass the ridge and towards Vejle you walk through the melt water valley which was formed under the ice cap of the latest Ice Age. Today hiking in the nature across Jutland along the Coast to Coast Trail offers a rich variated nature landscape, wide open spaces, and peace and quiet. Long sections of the trail are very close to the stream courses, which is unique.
The Coast to Coast Trail is a hiking route offering versatile nature experiences with flora and fauna from meadows, woods, and fields. You can choose to walk the tour in one or more sections or to walk short tours or circular tours along the hiking trail. The trail course is well-equipped with primitive overnight accommodations. Map materials and guides for the hiking tour from coast to coast can be found here: http://www.kyst-kyststien.dk/praktiske.htm (in Danish only).
Following this link, you can find further information about locations where you can stay overnight along the middle part of the Coast to Coast Trail between Hovborg and Bække. 
Hovborg
In Hovborg it is possible to shop or to buy a meal at Hovborg Kro (Inn). In the Hovborg area, primarily the large moorland plantations and their cultural history are interesting. Most of the plantations were established by rich men from Copenhagen, who would like to secure hunting ground and to support the national romantic afforestation after the loss of Southern Jutland in 1864. The Hedeselskabet was established here by Dalgas.
Near Bække the Coast to Coast Trail crosses the national hiking route Hærvejen (Ancient Military Road). The Hærvejen has passed through Bække. We now this with certainty. In Bække you find shopping and overnight accommodation. The Coast to Coast Trail passes the historic Bække Monument, Klebæk Høje, where the traces of 3 periods of history can still be seen.