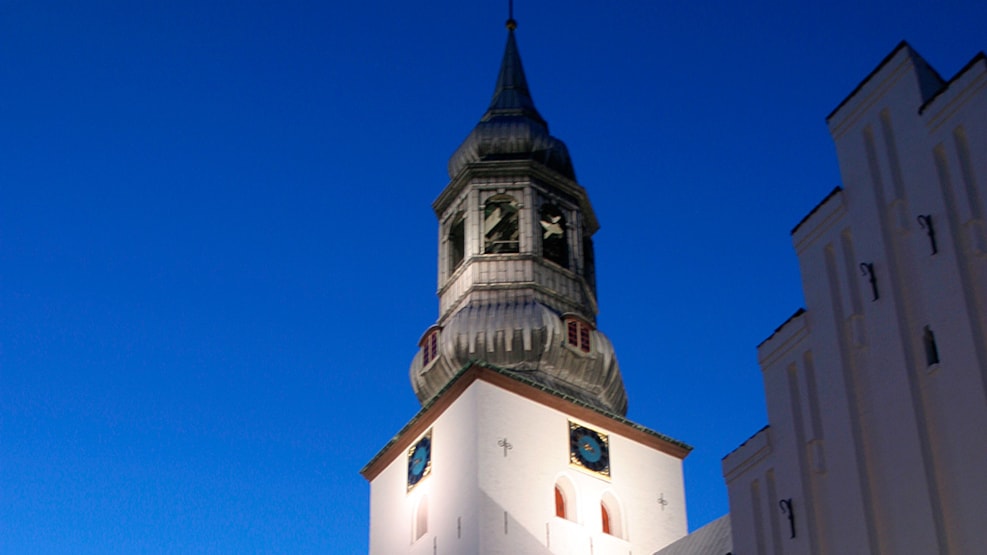 Budolfi Church
The Cathedral of St. Budolfi is located between the old main street Algade and Gammeltorv. The white façade gives the cathedral a noble look, even though it is actually the smallest cathedral in Denmark.
The cathedral was named after the English Benedictine monk Saint Bodolfus who lived around the year 650 and who was worshipped as the protector of travelers and seafarers. The cathedral has always been an important part of Aalborg, and it is even part of Aalborg's coat of arms along with two other churches, namely Vor Frue Kirke and Klosterkirken.
The history of Budolfi Cathedral
Archaeologists have found traces of a wooden church on the spot where Budolfi Cathedral is placed today. The wooden church dates back to ca. 1000, but the cathedral as we know it was built in the 1400s in Gothic style. The Baroque spire was erected in 1779 and the altarpiece and pulpit date back to the 17th century. Since 1554, the cathedral has also been the cathedral of Aalborg diocese with room for around 650 churchgoers.
The church is 56 meters long and 22 meters wide. The tower is 28 meters tall and the spire 35.5, meaning that the church rises 63.5 meters above the city roofs.
The carillon of the cathedral
One of the things which makes Budolfi Cathedral stand out from the other cathedrals in Denmark is the amazing carillon which plays once an hour between 8 AM and 10 PM. The repertoire of the carillon is continuously renewed so it fits religious festivals and seasons. The melodies are computer controlled, but it is possible to control them manually as well. This occurs during the carillon concerts which are held regularly. The carillon has existed since 1934, but the 48 bells which are currently used were cast by the Dutch company Petit & Fritsen in 1970. The biggest of the 48 bells weighs approximately 1250 kilos, and the total weight of the entire carillon is 16 tons.
Church service at Budolfi Cathedral is every Sunday at 10 AM.
Read more about Budolfi Cathedral in Aalborg...