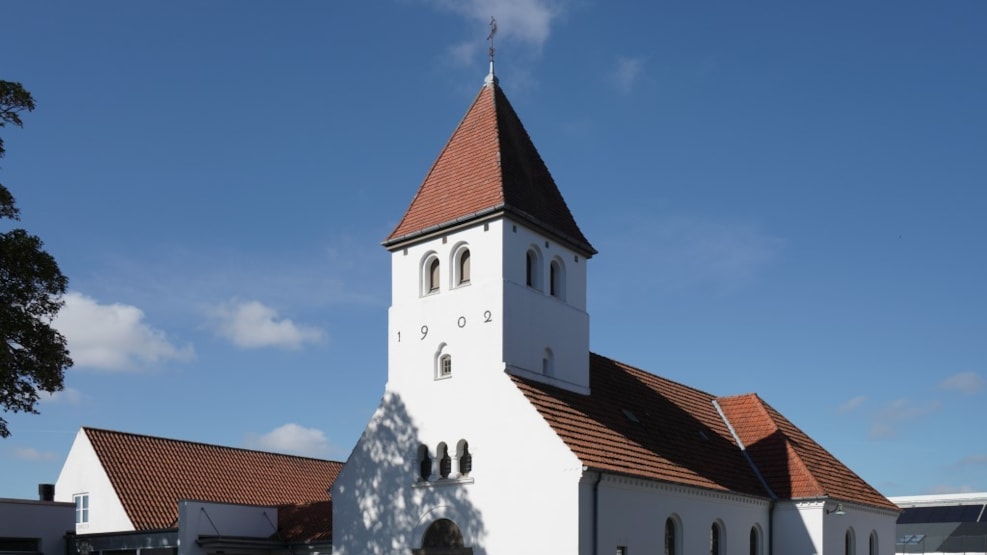 Bangsbostrand Kirke
The church was built in 1902 as a branch church due to urban development south of Frederikshavn.
 
Only in 1943 was Bangsbostrand parish separated as an independent parish. Contrary to normal, the tower is facing the east and the altar to the west.

The baptismal font is of marble. It was donated to the church by an anonymous donor.

The altarpiece with the painting 'Christ and the children' is by Axel Hou.

The pictures on the pulpit is made by carver Bundgaard, Copenhagen. They are a gift from a group of ladies in town.

Two chandeliers after drawing by Th. Bindesbøll were donated by landowner Johan Knudsen, Bangsbo Manor.

The bell, placed in the church courtyard, was casted in 1935 by bell cast Sorensen, Brønderslev. It is molded of material from two earlier bells: one larger and one smaller.

The Model of a full-rigged ship was donated by fishermen in Bangsbostrand.